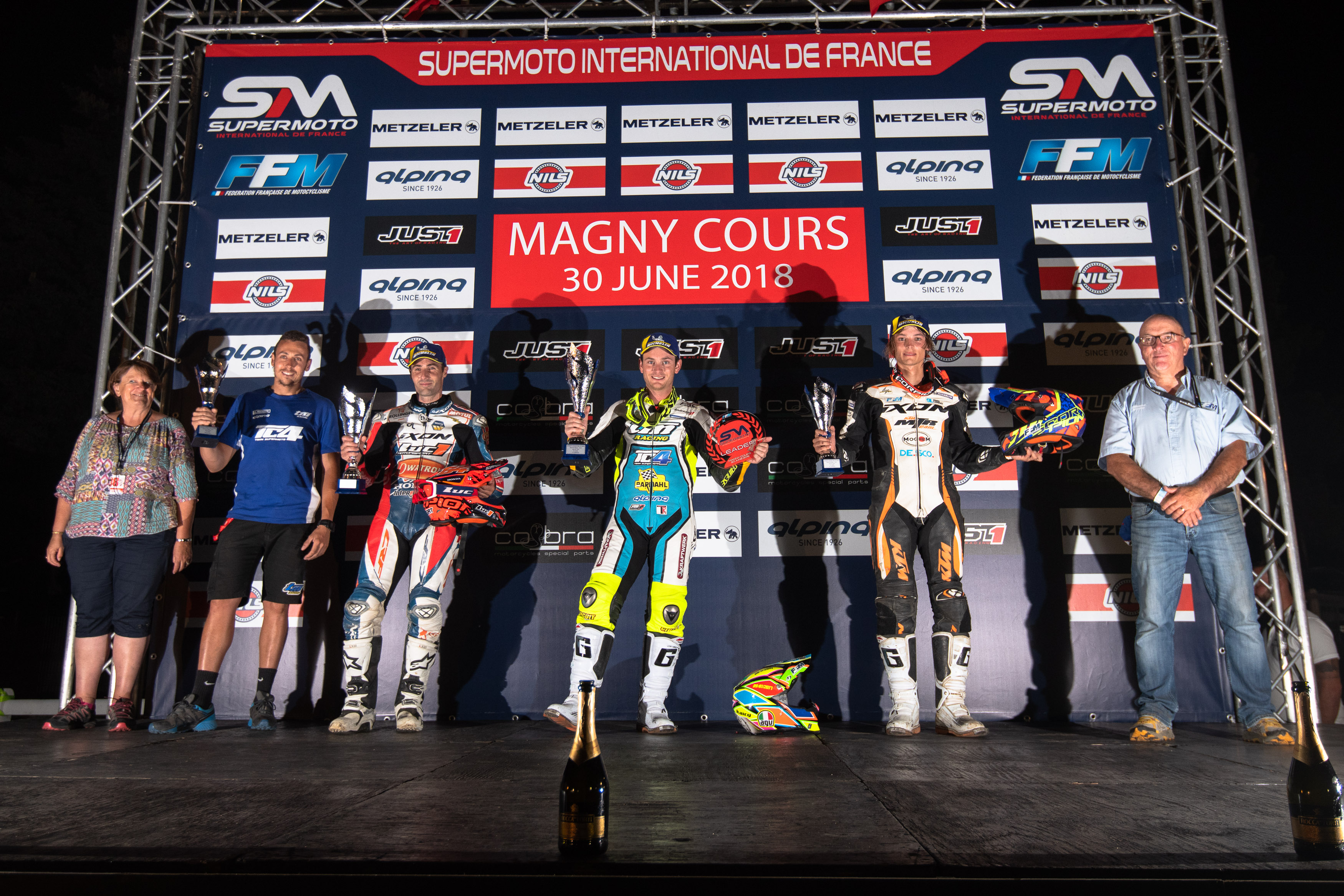 INTERNATIONAL OF FRANCE – MAGNY COURS: THE LECTURE OF THOMAS CHAREYRE
Magny-Cours (France), 02 July 2018 – Thomas Chareyre (TM, Team TC4) surprised everyone in Magny Cours to be at the start only 3 weeks after his accident during the European Championship in Poland. Chareyre was not even sure that he was physically fit, but in the end he did not leave any chance to his opponents realizing, once again, the perfect weekend. He set the best time in Friday's qualifying practice, despite the good performances of Laurent Fath (KTM, MTR team) at three tents of a second, and of the German rider Marc Schmidt (Honda, Team L30 Racing) at 13 tenths of a second. The small gaps suggested a great battle for the races on Saturday the race day.
RACE 1: Thomas Chareyre takes the lead from the start and finishes with competition in first place. Marc Schmidt maintained a good pace in the first race and finished second ahead of Sylvain Bidart (Honda, Team Luc1 Owatrol Honda). The fight was closer from the start for the fourth place between Germain Vincenot Marchal (Honda, Team Luc1 Owatrol Honda), Laurent Fath and Nicolas Cousin (TM, Team Phoenix Racing). At the finish it is  Germain Vincenot Marchal who takes fourth and imposes himself.
RACE 2: Once again Thomas Chareyre impresses everyone and with a fast pace, he wins again without problems. Marc Schmidt had a crash in the beginning but can continue. After a few lap the race is over for the German rider due to a puncture. Sylvain Bidart takes the second place and holds it to the checkered flag. Laurent Fath (KTM) and Marchal Germain Vincenot (HONDA) are fighting for third place, and it is in the last laps that the KTM rider manages to finally conquer the third position, while the Honda rider will finish in the fourth position.
Thomas Chareyre remains well ahead of the provisional championship standings, Sylvain Bidart takes second place ahead of Marc Schmidt.
International ranking of France – Magny Cours
1 CHAREYRE Thomas
2 BIDART Sylvain
3 FATH Laurent
4 VINCENOT MARCHAL Germain
5 COUSIN Nicolas
Provisional Championship ranking
1 CHAREYRE Thomas 222
2 BIDART Sylvain 180
3 SCHMIDT Marc Reiner 163
4 VINCENOT MARCHAL Germain 149
5 FATH Laurent 148
In the photo: International of France podium  (picture by Steph LeGrand / FFM)
LINKS