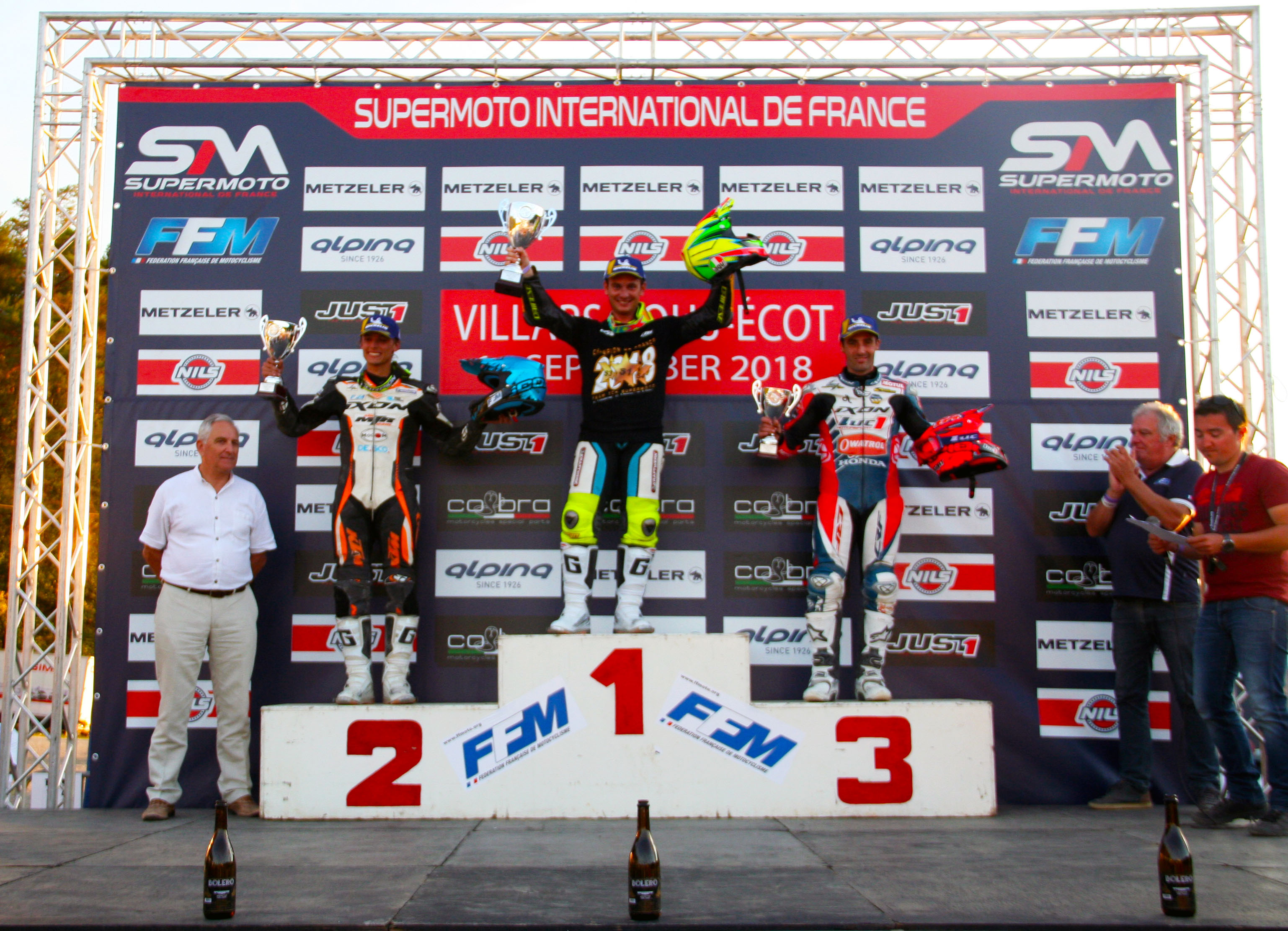 THOMAS CHAREYRE WINS THE INTERNATIONAL OF  FRANCE 2018 IN VILLARS
Villars Sous Ecot (France), 16 September 2018
Last weekend the final round of the International of France 2018 championship was held at Circuit de la Varsenne. This unique event in the region of Doubs was organized by the Moto Club du Villars sous Ecot (CVD).
Perfect weather conditions combined with an exceptional circuit on a high plateau, has made this weekend an unique event. Our compliments for the work of the organizers.
Thomas Chareyre dominated the weekend, climbing again on the top step and won the International of Franc title after taking the European championship title last week in Sestriere.
Chareyre was accompanied on the podium by Laurent Fath and Sylvain Bidart.
In Villars sous Ecot, the European champion Thomas Chareyre (TM team TC4) had a perfect weekend leaving no chance for his competitors. Chareyre was fastest in the time practice on Saturday
in front of Marc-Reiner Schmidt (L30 Honda Racing Team) and Sylvain Bidart (Team Honda LUC1 Owatrol).
Both races on Sunday had almost the same course of the race, starting with a major battle for the lead between Thomas Chareyre and Marc-Reiner Schmidt. The Honda rider however had some problems with slipping a few times and
in both races he fell back to below tenth place. Thomas Chareyre didn't have to worry about the competition anymore and passed both times victorious the checkered flag. Laurent Fath had also found a good rhythm in both races and finished in second place in race one and two. Teammates at LUC1, Sylvain Bidart and Vincenot Marchal (Honda Team Honda LUC1 Owatrol) had a fight at the start of the races, but Sylvain Bidart managed to beat his teammate , finishing third in both races.
CLASSIFICATION Round of Villars Sous Ecot
1 CHAREYRE Thomas 50
2 FATH Laurent 44
3 BIDART Sylvain 40
4 VINCENOT MARCHAL Germain 36
5 MARIE LUCE Alexis 31
FINAL CLASSIFICATION INTERNATIONAL OF FRANCE 2018
1 CHAREYRE Thomas 297
2 BIDART Sylvain 240
3 FATH Laurent 210
4 SCHMIDT Marc Reiner 204
5 VINCENOT MARCHAL Germain 201
In the photo: podium
LINKS
XIEM