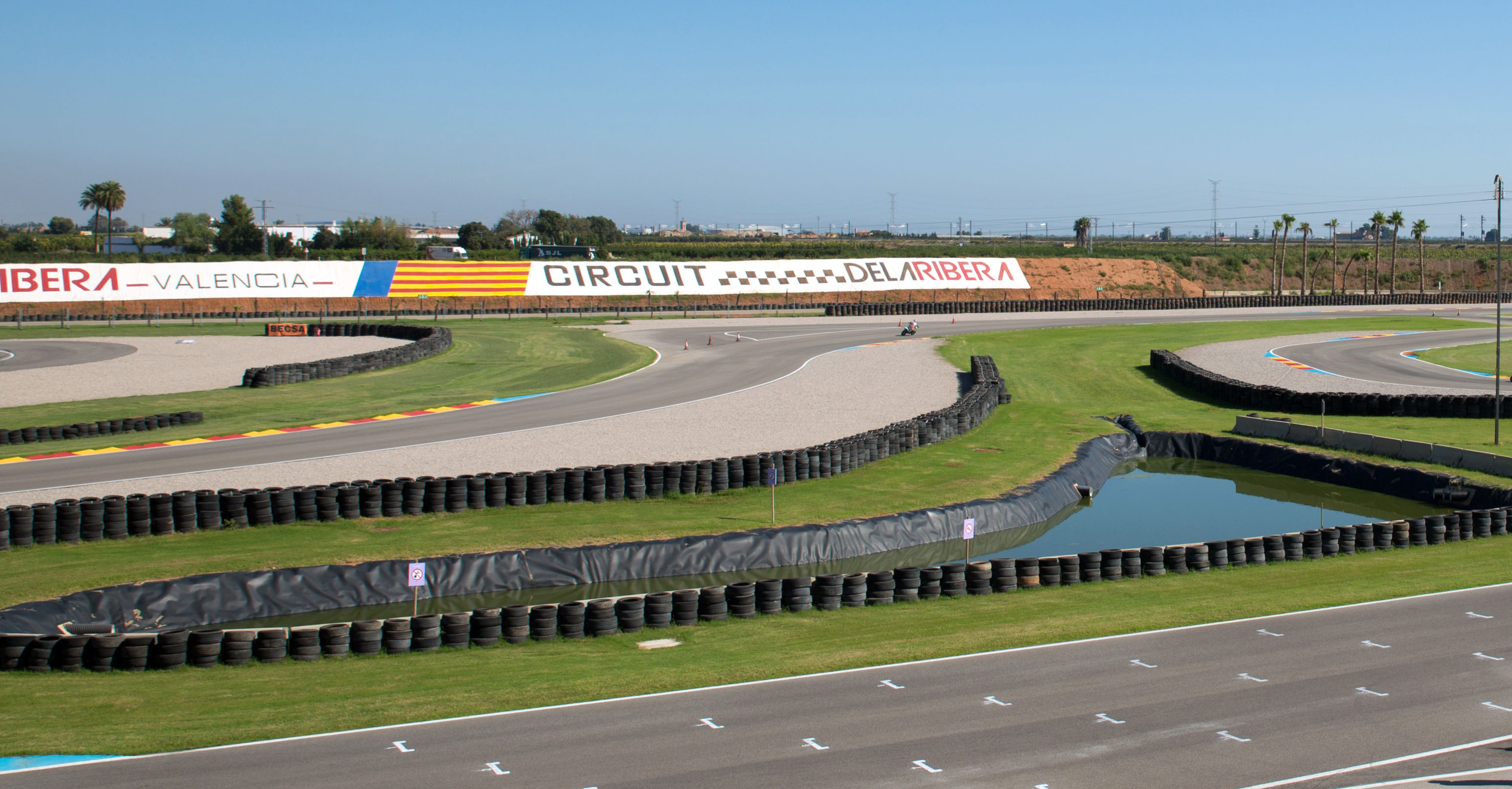 CIRCUIT DE LA RIBERA IS READY FOR THE 2018 FIM SUPERMOTO OF NATIONS
Guadassuar (Spain), 28 September 2018. This weekend the 2018 edition of the FIM Supermoto of Nations will be held at Circuit de la Ribera in Guadassuar, Spain. After hosting the race in 2016, the Supermoto of Nations is back on Spanish ground this time in the region of Valencia. Circuit de la Ribera is one of the best equipped venues in Spain and is suitable for all sorts of motorsport. The race track has challenging corners combined with fast straight and more than 400 meters of off-road.
In total 18 teams from countries all over the World will be present in Spain. With the strongest teams from last year present again, the races on Circuit de la Ribera will be close and full of action throughout the complete weekend.
Seven times FIM Supermoto of Nations winning country France will be present again in Spain again with their same winning team as last year. With European champion TM Factory Racing rider Thomas Chareyre, MTR KTM rider Laurent Fath and LUC1 Honda rider Sylvain Bidart, Team France is again one of the biggest favourites for victory in 2018 Last year's number three, Team Italy is also sending their strongest team, SWM Factory rider Edgardo Borella, Phoenix Racing rider Elia Sammartin and TM Factory Racing rider Diego Monticelli will defend the honours for Italy. After the injury of their strongest rider Degasoline rider Pavel Kejmar in 2017, Team Czech Republic has to miss their fastest rider also in 2018. Kejmar is not enough recovered from his injury sustained just before the last race in Sestriere.  Never the less Czech Republic managed to create a strong team with Tuning Motorsport riders Milan Sitniansky and Petr Vorlicek and with Yamaha rider Erik Provnazik. The three will try to go for the podium again like two years ago. The number five of last year's edition, Team Great Britain has also travelled to Spain with an experienced group of riders. The Union Jack will be defended by Husqvarna riders Davey Todd, Richard Blakeman and KTM rider Jamie Duncan.  After their return last year, Team Sweden will also be present at Circuit de la Ribera with KTM rider Hampus Gustafsson and Honda riders Fredrik Eriksson and Anton Christensen. After a year of absence Spain is back into action on their home ground in Valencia with two teams. Suzuki Grau rider David Gimenez, Joan Llados and Ferran Cardus are the riders in the senior team while the young Spanish riders Adrien Cervera, Genis Gelada and Jaume Gaya represent the junior team.
From the other side of the World, Team Brasil has also travelled to Spain with their riders. After taking eleventh place overall last year, the Brasilian riders Pedro Rehn, Francisco Velasco and Marcelo Silverio will try to improve on last year's performance. Estonia is also back in the Supermoto of Nations this year with an experienced team of riders. MTR KTM rider Eero Madisson and the brothers Prants and Patrick Pals will represent the white/blue colours of their country.
Other countries that will be present at the Circuit de la Ribera will be are Team Portugal, Team Latvia and Team Russia in total twelve countries will compete for the 2018 crown.
One of the major countries who will not have a team this year in Spain, in the number two of last year's edition Team Germany. The final round of the National championship of Germany is held in the same weekend as the Supermoto of Nations. Also the number fourth of 2017, Team Austria will not be present this year together with Team Switzerland and Team Belgium.
With an competitive group of Nations present in Guadassuar the action on the race track will be hard and tense as every rider wants to perform his very best for its country.
In the Photo: Circuit de la Ribera view
LINKS