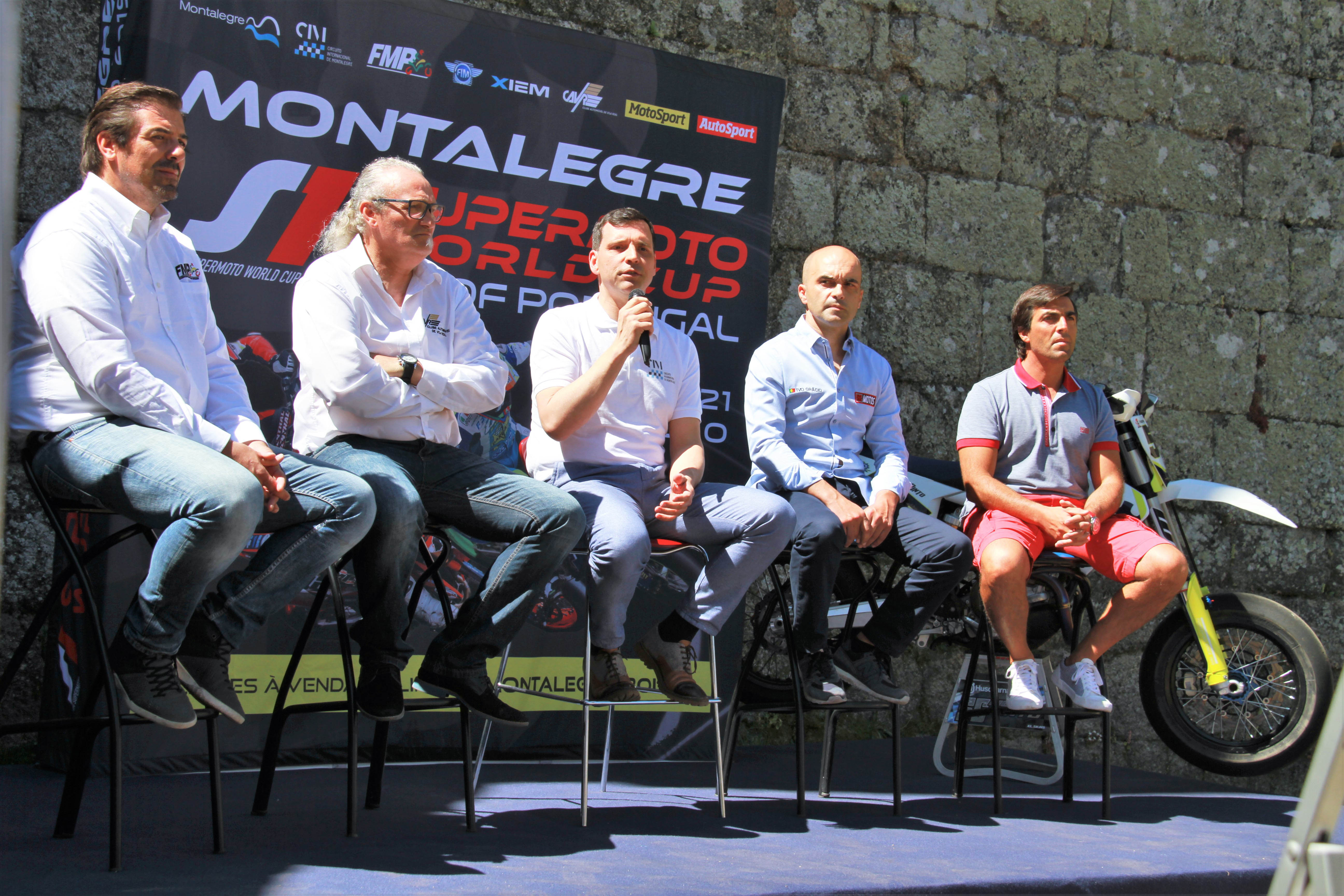 SUPERMOTO WORLD CUP PRESENTATION IN MONTALEGRE
Montalegre (Portugal) 11 July 2019 – The imponent Montalegre Castle yesterday was the venue for the public presentation of the S1FIM  World Cup, planned on 20 and 21 July at the Montalegre International Circuit. The presentation  was attended by the Vice-president of the Montalegre Municipality, David Teixeira, Jorge Almeida, president of the Vila Real Automobile Club, Serafim Nunes, responsible for the Supermoto Commission of the Motorcycling Federation of Portugal and the Portuguese supermoto riders Ivo Gracio and Nuno Pinto. For the organizer it is a new challenge to organize motorcycle races, as Montalegre has great experience with cars. David Teixeira said it is an honor to receive this prestigious event and hopes it will be a new and interesting show for the public and also a statement of Montalegre on the world of motorcycle races.
In the meantime Montalegre circuit staff is working for next week building a new off road section with jumps, extending the tarmac part of the circuit with new extra section, building protections and implementing the pit lane area.
Everything hoping to have the most possible impact on the press and media so that Supermoto becomes more well known and popular in Portugal and Galicia, welcoming  promoter, FIM, Team and riders so that they will like to always return to Montalegre.
In the photo: From left to right, Serafin Nunes-FMP Supermoto Responsible, Jorge Almeida-Cavr President, David Teixeira-Montalegre Vice President, Ivo Gracio-Portuguese rider, Nuno Pinto-Portuguese rider
LINKS
CIRCUIT INTERNACIONAL DE MONTALEGRE
FIM SUPERMOTO WORLD CUP MONTALEGRE