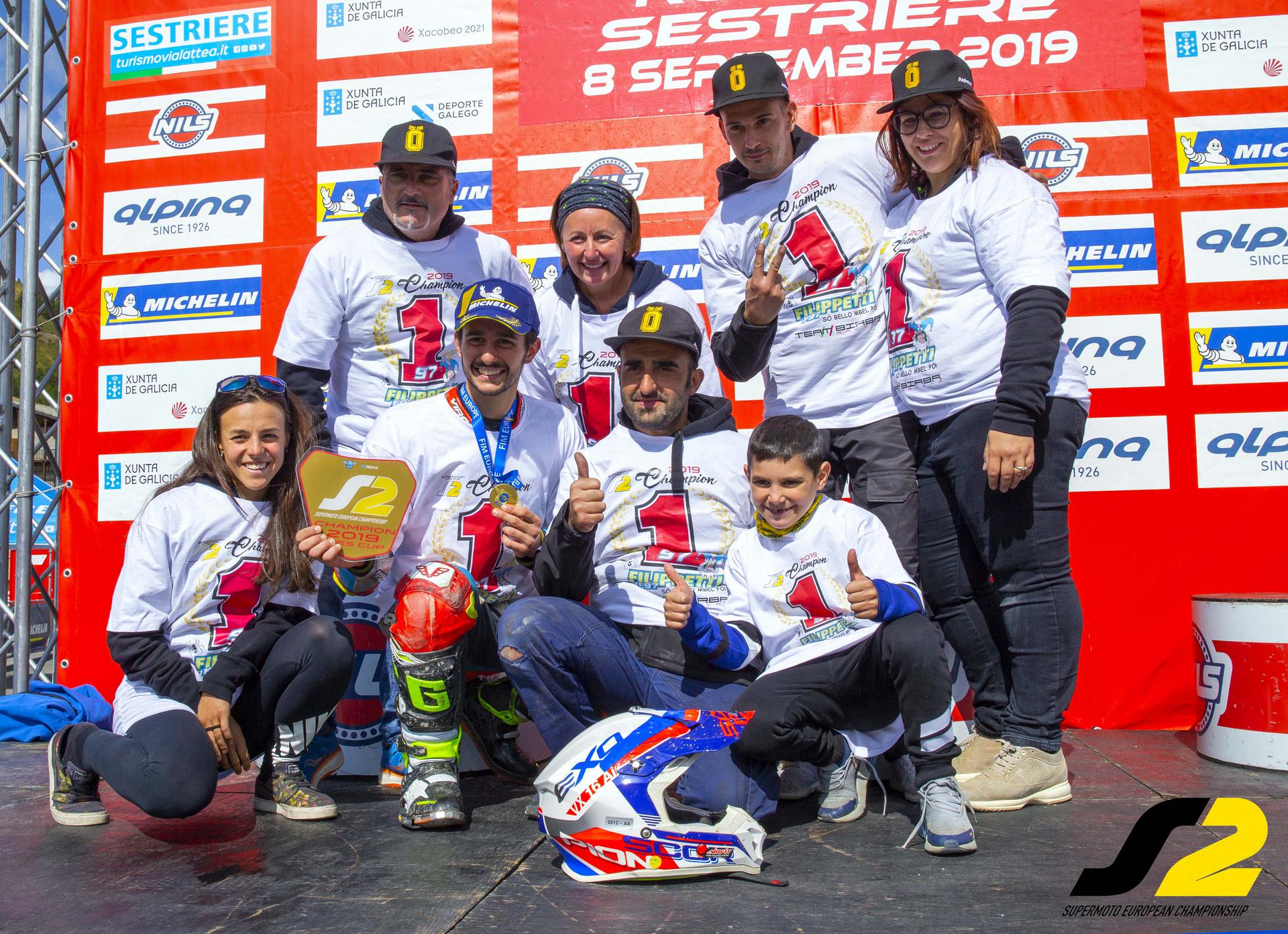 GIOELE FILIPPETTI THE NEW 2019 S2 EUROPEAN LITES CUP CHAMPION
Martigny ( Switzerland) – 13 September 2019,  Last weekend the final round of the 2019 S2 Supermoto European Championship was held in Sestriere, Italy. In the Lites Cup the title went to Italian rider Gioele Filippetti from TM Birba Racing.
For twenty-two year old Gioele Filippetti from Loreta, near Ancona, 2019 was his second full season in the Lites Cup of the S2 Supermoto European championship and is riding for Italian team of Birba Racing. After his fourth place in 2018, this year the season for Filippetti was all about taking the title. After a difficult start in the first race in Ottobiano with a fourth place and an DNF due to a crash,  the results got better and better. With two solid victories in Busca (Italy) and Poznan (Poznan), Gioele managed to take over the lead in the Lites Cup from Raoul Tschupp. After the third round of the season in Poland, the Lites Cup continued in Spain at the racetrack of Forcarei. The TM Birba Racing rider continued his season with two second places in the races. After the injury of Tschupp, German rider Jannik Hintz and Spanish rider Jaume Gaya became the main rivals from Filippetti. The three riders battled almost all season for every championship point. After the race in Forcarei, Gioele Filippetti had a lead of 18 points on Hintz and 30 points on Gaya. With 50 points in the Lites Cup to be divided everything was still possible in the final round in Sestriere. During the time practice in the streets of Sestriere, Filippetti clocked the 10th time overall just in front of his main rivals. The races in Sestriere were not easy for the young Italian rider but Gioele kept his head clear and did two consistent races on the difficult track. The fourth and fifth places in the races were enough the take the Lites Cup title in 2019 with 208 points, 7 points in front of Jannik Hintz and Jaume Gaya.
Results Gioele Filipptetti / Lites Cup 2019
Ottobiano (14.04.2019)                6th place (4 + DNF)
Busca (18.05.2019)                      1st place (1 + 1)
Poznan (30.06.2019)                    1st place (1 + 1)
Forcarei (24.08.2019)                   3rd place (2 + 2)
Sestriere (08.09.2019)                  4th place (4 + 5)
In the photo: #97 Gioele Filippetti
LINKS