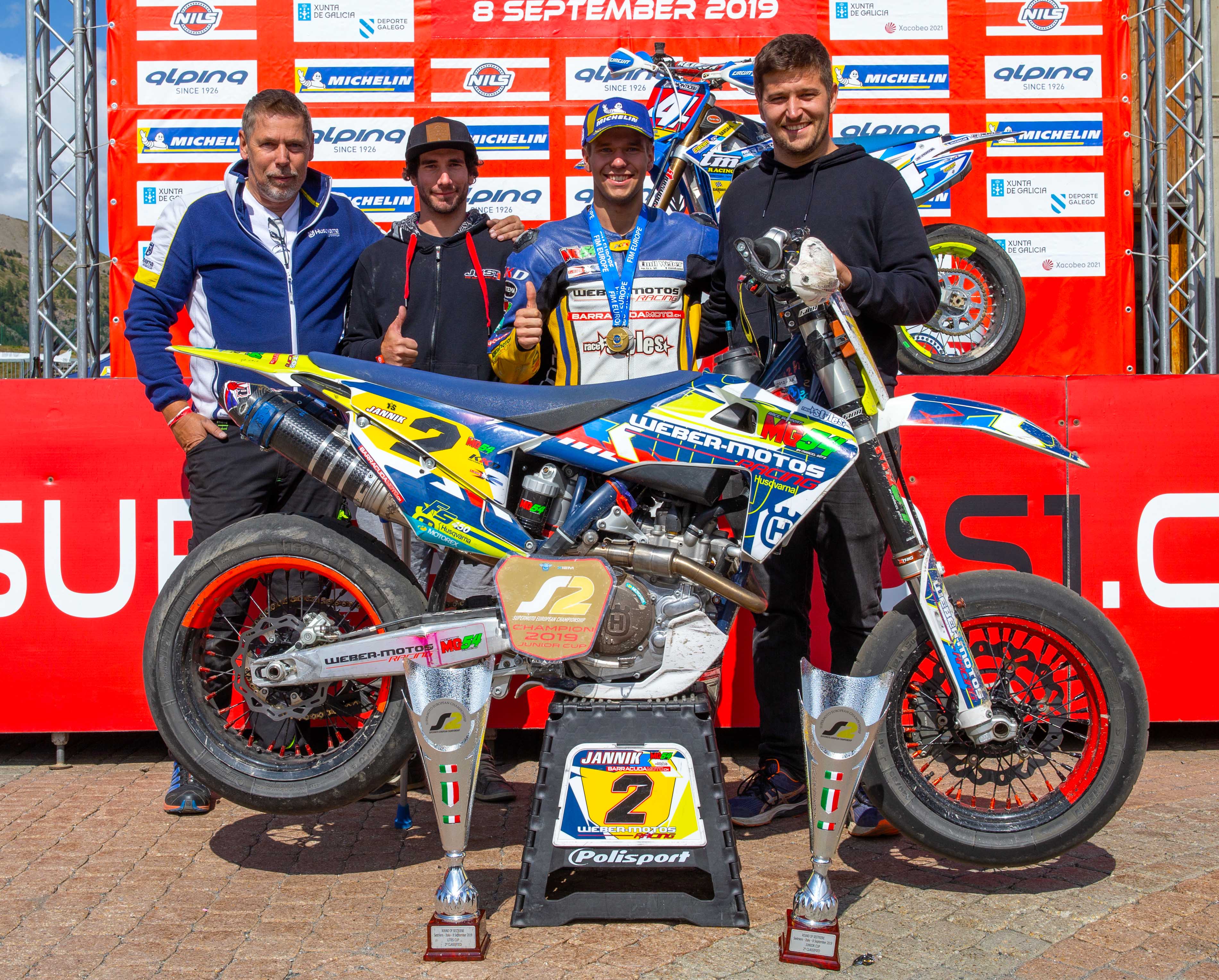 JANNIK HINTZ THE NEW 2019 S2 EUROPEAN JUNIOR CUP CHAMPION
Martigny (Switzerland) 15 September 2019 – Last weekend the final round of the 2019 S2 Supermoto European Championship was held in Sestriere, Italy. In the Junior Cup the title went to German rider Jannik Hintz from Husqvarna Weber Motorsport.
For twenty year old Jannik Hintz  from Weiler, Germany, 2019 was his first season in the Junior Cup of the S2 Supermoto European championship. Jannik Hintz is a private rider riding on a Husqvarna from Weber Motorsport. After competing in National championships, Hintz made in 2019 a step to the international Supermoto sport by taking part in the complete S2 Supermoto European championship season. Hintz showed his talent already in the first round of 2019 in Ottobiano. With a second and first place, Jannik took the first red plate of the Junior Cup. Also at the second round in Busca, Hintz took the victory in front of his main rival Suzuki Grau rider Jaume Gaya. In the next races of the Junior Cup kept riding very consistent with two second places overall with every race equal points in Poznan and Forcarei with Gaya. In the last race everything was still open for the Junior Cup title with 50 points still to fight for. In Sestriere, Jannik Hintz used his experience on street racetracks in Swiss and Germany and took the victory in the first race in Italy. Also in the second race in Sestriere, Hintz managed to take second place behind Emerick Bunod but in front of his rival for the title. With his second place on the podium at the Palazzetto dello Sport, Jannik Hintz took the 2019 S2 Junior Cup title with 238 points, 13 points in front Jaume Gaya and Emerick Bunod.
Results Jannik Hintz / Junior Cup 2019
Ottobiano (14.04.2019)                1th place (2 + 1)
Busca (18.05.2019)                      1st place (1 + 1)
Poznan (30.06.2019)                    2nd place (1 + 2)
Forcarei (24.08.2019)                   2nd place (1 + 2)
Sestriere (08.09.2019)                  2nd place (1 + 2)
In the photo: #2 Jannik Hintz
LINKS