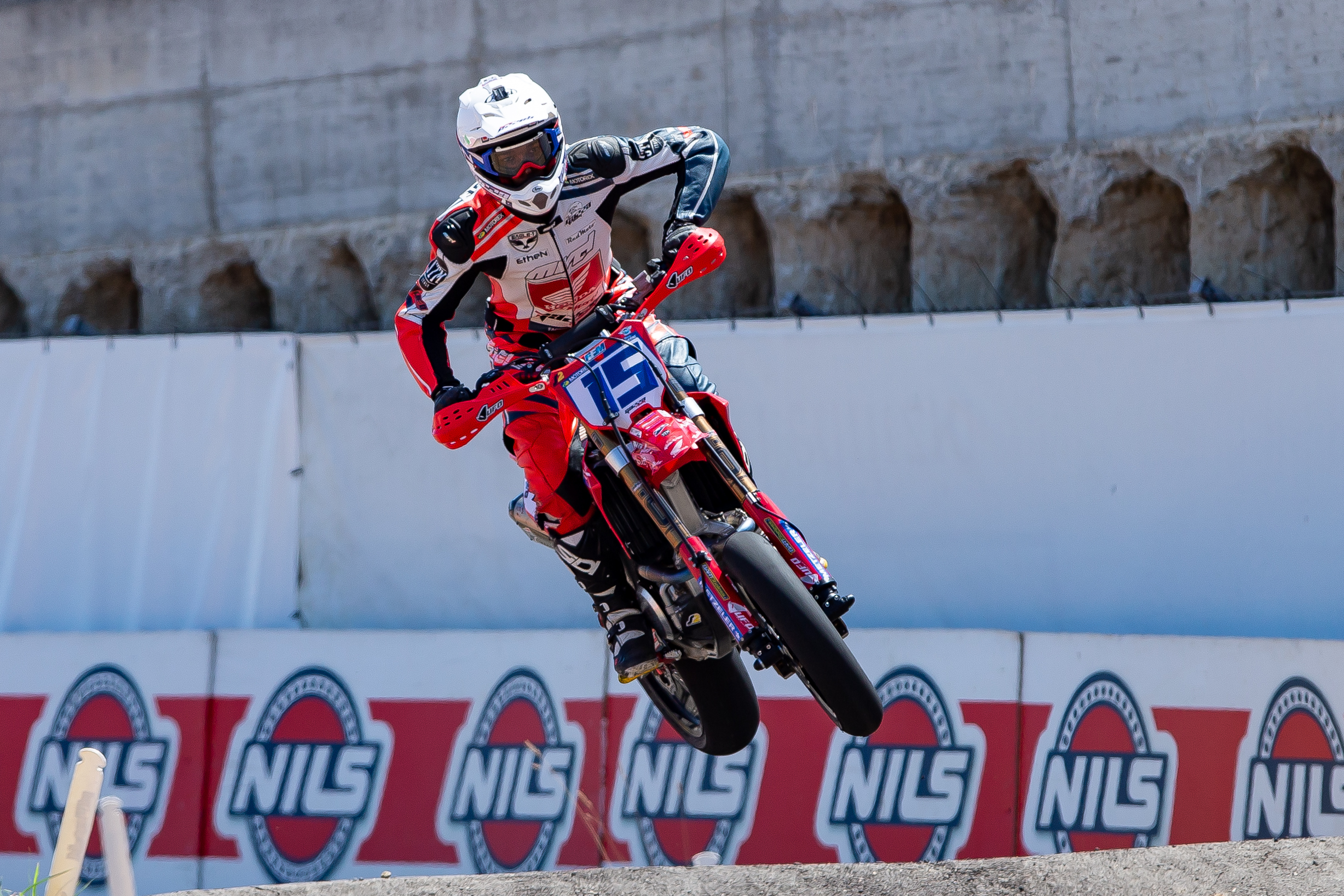 YOURY CATHERINE AND MARCO MALONE TAKE THE POLE POSITIONS IN S2 & S4 IN ORTONA
Ortona (Italy), 26 June 2021 – For the FIM Supermoto European Championship and European Supermoto Cup the waiting was also over. With last year's champion L30 TM Factory Racing rider Diego Monticelli moving to the world championship, the battle for the title is completely open. Today the riders had their free practices and time practice for the races on Sunday in blistering hot weather conditions. The track in Ortona was prepared perfectly and all riders got quicker and quicker during the day. In the S2 class of the FIM Supermoto European Championship it was Gazza Racing rider Youry Catherine who took the pole position for the races on Sunday. In the S4 class of the European Supermoto Cup the pole position for Sunday was taken by Italian FRT 2 Racing team rider Marco Malone.
Time practice S2
In the free practices on the Circuito Internazionale d'Abruzzo, Gazza Racing rider Youry Catherine was quickest, so the French rider was also the favourite for the pole position. Straight from the start of the timed session, all riders were on the track as they wanted to set a time quickly as the temperatures on the track were very hot and demanding for riders and machines. With riders going faster and faster the battle got more intense as Austrian Husqvarna rider Andreas Buschberger and KTM MTR rider Romain Kaivers were pushing hard. With L30 TM Factory rider Steve Bonnal not far behind no rider could rest during this session. Also Youry Catherine was pushing hard and after some final adjustments to his bike, the young French rider set a lap time which no other could match or even improve. Catherine's time of 1:13:413 was 00:868 seconds faster than second rider Andreas Buschberger and Belgian rider Romain Kaivers who was in his turn 00:001 seconds slower than Buschberger. Fourth place was for Steven Bonnal and the top five was completed by Tim Szalai from Bodo Schmidt Motorsport.
S2 Time Practice Top Ten
CATHERINE Youry 1:13.413; 2. BUSCHERBERGER Andreas (AUT, Husqvarna) 1:14.281; 3. KAIVERS Romain (BEL, KTM) 1:14.282; 4. BONNAL Steve (FRA, TM) 1:14:467; 5. SZALAI Tim (FRA, Husqvarna); 6. BOZZA Luca (ITA, TM) 1:14:765; 7. FIORENTINO Romeo (BEL, Yamaha) 1:14:786; 8. CAPONE Loucas (BEL, Honda) 1:15:064; 9. STUCCHI Andrea (ITA, Honda) 1:15:535
Time practice S4
Just before the time practice of the S2 class, the riders of the European Supermoto Cup in the S4 class started their timed practice to determine who would be on the best place on the starting grid. Most rider know the racetrack of Ortona from their National championships so it took some time for all the riders were on track, but the tension was not less. Once the riders were settled and found their rhythm the lap times got faster and faster, not just for the top riders but all riders got closer together. As in both free practices Italian FRT 2 Racing rider Marco Malone was fastest with a time of 1:01:141, but the competition was close with L30 TM Factory riders Kevin Vandi and Alessandro Sanchioni not far behind the fast FRT 2 rider. All riders gave all they got but no one couldn't beat the time of Malone making him the first pole sitter of the this season in the European Supermoto Cup. Kevin Vandi was second and the top three was completed by Alessandro Sanchioni
S4 Time Practice Top Ten:
MALONE Marco (ITA, Honda) 1:01:141; 2. VANDI Kevin (ITA, TM) 1:01:492; 3. SANCHIONI Alessandro (ITA, TM) 1:01:599; 4. D'ANNUNZIO Andrea (ITA, TM) 1:01:729; 5. ARDUINI Jacopo (ITA, Honda) 1:02:046; 6. RUIZ JIMENEZ Alex (ESP, Husqvarna) 1:02:125l 7. FORD Dunn Loris (GBR, Husqvarna) 1:02:135; 8. KOELEWIJN Jos (NED, Honda) 1:03:944; 9. KANTRAUSKAS Justinas (LTU, Husqvarna) 1:06:345
Time Table:
Sunday: S4 Race 1 10.40; S2 Race 1 11.30, S4 Race 2 13.30;  S4 Price giving ceremony, S2 Race 2 14.30 S2 Price giving ceremony
Complete results available HERE.
S2-S4  EUROPEAN CHAMPIONSHIP of ABRUZZO – QUICK FACTS
Circuit length: 1.500 mt
Temperature: 29 degrees Celsius
Weather conditions: Sunny
In the photo: S2 Youry Catherine with NILS
LINKS
CIRCUITO INTERNAZIONALE D' ABRUZZO