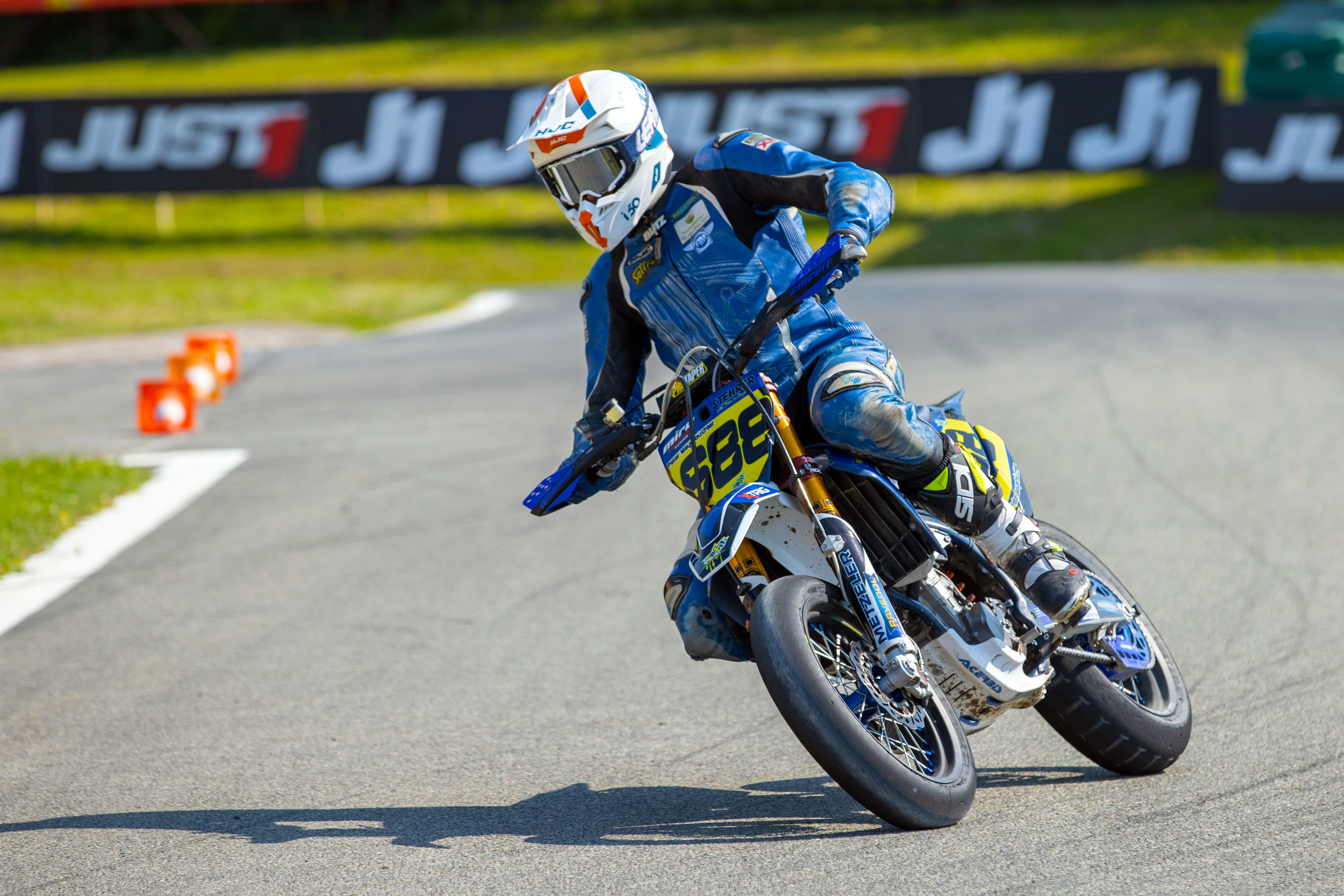 PETER MAYERBUECHLER TAKES THE POLE POSITION IN S2 IN VYSOKE MYTO
Vysoke Myto (Czech Republic), 24 July 2021 – For the Supermoto European Championship the season continued at the Autodrom of Vysoke Myto in Czech Republic today with the free and timed practices. With the racetrack in the region of Pardubice perfectly prepared and perfect weather conditions it turned to be a great day for the spectators and riders. At the end of the day, the pole position went to Mira Racing Team rider Peter Mayerbuechler from Germany.
Time practice S2
In the two free practices on the Autodrom of Vysoke Myto it was the current leader in the Supermoto European Championship, Austrian Husqvarna rider Andreas Buschberger who was fastest but with the competition not far out the battle battle for the pole position was still wide open. The time practice started at 14:00 hours in warm and very sunny weather conditions. With the off-road perfectly prepared in the break, the track and the riders were ready. When the pitlane opened all riders were on the track immediately to the best time on the track of Vysoke Myto. Already early in the season the lap times got quicker and quicker and in lap four  it was Mira Racing Team rider Peter Mayerbuechler who set a time of 1:19:792 which was good for first place. Gazza Racing rider Youry Catherine and Andreas Buschberger was still getting faster but as the time passed away, the two riders couldn't beat the time set by the German rider. L30 TM Factory riders Steve Bonnal and Luca Bozza gave also all they got but the teammates had to settle for fourth and fifth in this time practice. With the session finished, the time of Peter Mayerbuechler was still the fastest and the German rider took the pole position in his first race of the season in the S2 class. Second fastest was Youry Catherine and the fastest riders in the free practices now had to settle for third place and the last spot on first row for tomorrows races.
S2 Time Practice Top Ten
Mayerbuechler Peter (GER, Husqvarna) 1:19.792; 2. CATHERINE Youry (FRA, Honda) 1:19:860; 3. BUSCHERBERGER Andreas (AUT, Husqvarna) 1.20.327; 4. BONNAL Steve (FRA, TM) 1.20.637; 5. BOZZA Luca (ITA, TM) 1.20.887; 6. SZALAI Tim (FRA, Honda) 1.21.374; 7. KAIVERS Romain (BEL, KTM) 1.21.695; 8. FLIGR Denis (CZE, Honda) 1.22.617; 9. FILA Evzen (CZE, Husqvarna) 1:23.762.
Time Table:
S2 Race 1 12:00, S2 Race 2 14:30 , S2 Price giving ceremony
Complete results available HERE.
S2 EUROPEAN CHAMPIONSHIP of CZECH REPUBLIC – QUICK FACTS
Circuit length: 1.500 mt (1.150 mt + 350 mt off-road)
Temperature: 27 degrees Celsius
Weather conditions: Sunny
S2 Sunday races will be broadcasted LIVE on S1GP Channel
In the photo: Peter Mayerbuechler
LINKS