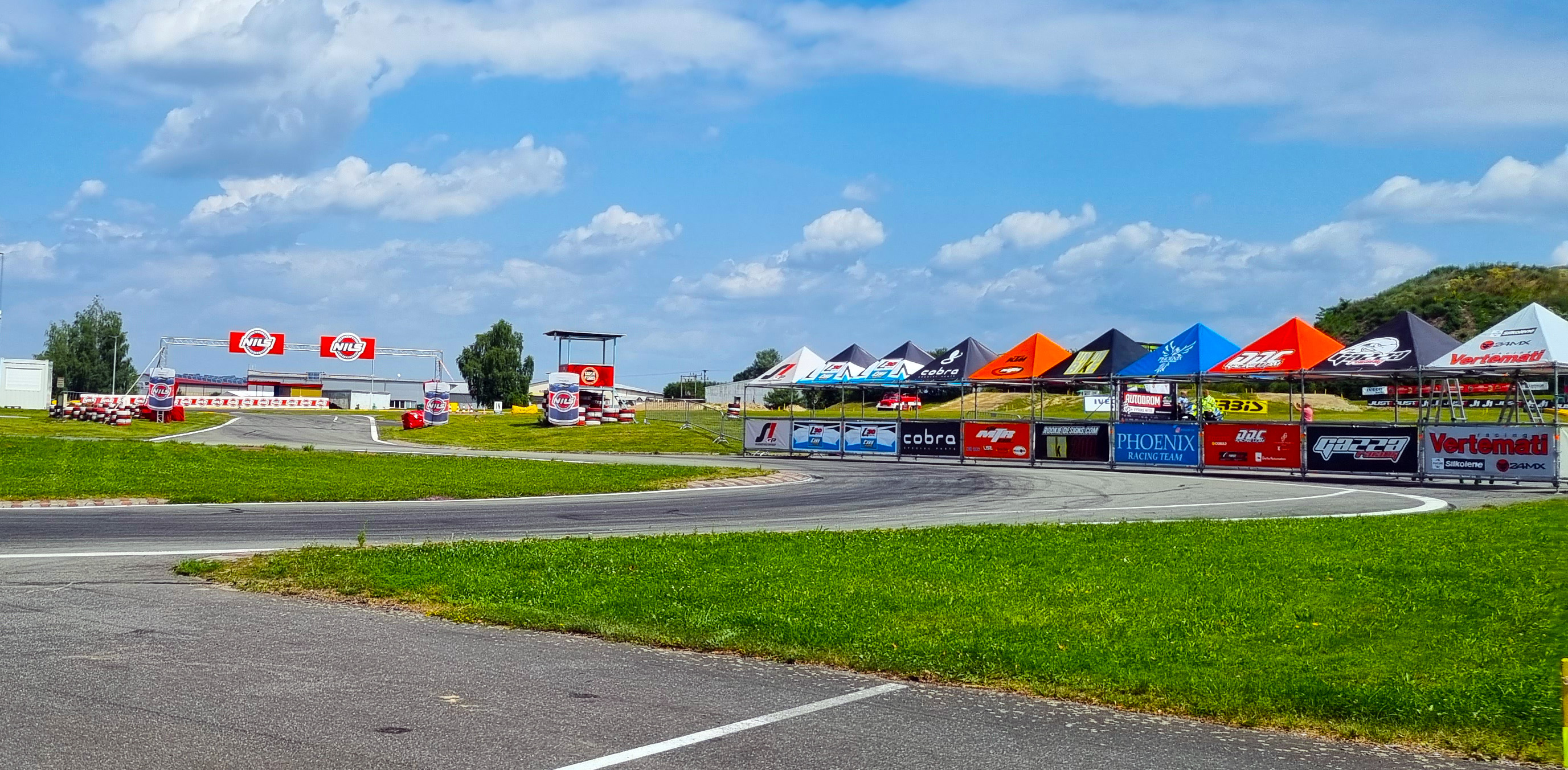 VYSOKE MYTO IS READY FOR SECOND GP OF THE 2021 SEASON
Vysoke Myto (Czech Republic) 23 July 2021 – After a great start of the season with some epic racing in Ortona, this weekend the battle for the FIM Supermoto World championship and Supermoto European championship will continue at the Autodrom of Vysoke Myto, Czech Republic. The track in the region of Pardubice is a combination long fast straights, tight corners and two challenging off-road sections, where the riders can get the best out of themselves. With the championships wide open and for most riders a new racetrack, the races will be packed with action again this weekend.
Leader in the S1GP class of the FIM Supermoto World championship, Phoenix Racing rider Marc-Reiner Schmidt will try to extend his lead of 18 points which the German rider has on the number two in the championship L30 TM Factory rider Thomas Chareyre. Third in the S1GP class is KTM MTR rider Lukas Hollbacher. The fastest baker from Austria is only 3 points behind Chareyre and is ready for his first victory. Fourth in the championship is the teammate of Schmidt at Phoenix Racing, Elia Sammartin. Phoenix Racing will be completed again in Czech Republic by Milan Sitniansky. For Sitniansky this weekend will be special as he is riding his home GrandPrix and the fast Honda will aim for the podium. The top five in the S1GP class is completed by L30 TM Factory rider Diego Monticelli. L30 TM Factory will also have Patrick Pals at the start in Vysoke Myto. SBD Union Bike rider Giovanni Bussei had a good start of the season in Ortona and will try to improve his sixth position in the championship. Vertemati Racing will also be present again with their rider Michael Vertemati who will continue his own batlle with DCC Racing rider Daniele di Cicco, SMX Racing rider Mickael Amodeo and Husqvarna rider Alberto Moseriti. Next to the fast group of international riders, a group of strong and fast riders from Czech Republic will be present at their homeground in Vysoke Myto. Erik Provaznik, Miloslav Rihak, Ales Cikanek and Tomas Travnicek will try to set some good results this weekend.
For the S2 class of the Supermoto European Championship it is also the second round of the season. Current leader is Austrian Husqvarna rider Andreas Buschberger. Second in the championship is French rider Youri Catherine who rides for Gazza Racing. L30 TM Factory rider Luca Bozza is only six points behind the leader Buschberger so for the Italian rider all options are open for this weekend. The teammate of Bozza in the S2 class, young French rider Steve Bonnal complets the L30 team in Czech Republic. SMX Racing rider Romeo Fiorentino is currently fifth, one point ahead of his fellow coutryman Belgium rider Romain Kaivers who will defend the colors of KTM MTR in this class. Second rider of Gazza Racing, Andrea Stucchi is also present and will try to improve his current seventh place in the championship. Bodo Schmidt Motorsport rider Tim Szalai and LUC1 rider Loucas Capone complete the top nine in the standings and are also back in Czech Republic to score some new points. After a good season last year, 911 Racing rider Mario Schafler is back for his first of the season. In the S2 class the field of young riders is also completed with a group of Czech, German and Swiss riders. Denis Fligr and Evzen Fila will start on their homeground in Vysoke Myto. Mira Racing will have Peter Mayerbuechler from Germany at the start and SMOT Racing from Swiss is represented by Mitja Krasniqi.
TIMETABLE
SATURDAY: 10.10 S2 Free Practice 1, 10.40 S1GP Free Practice 1; 12.00 S2 Free Practice 2, 12.30 S1GP  Free Practice 2; 14.00 S2 Time Practice, 14.35 S1GP Time Practice, 15.05 S1GP Superpole, 17.10 S1GP Race 1
SUNDAY: 12.00 S2 Race1; 13.15 S1GP Fast Race; 14.30 S2 Race2; 16.00 S1GP Super Final
S1GP and S2 Sunday races will be broadcasted LIVE on S1GP Channel.
In the photo: Autodrom Vysoke Myto
LINKS