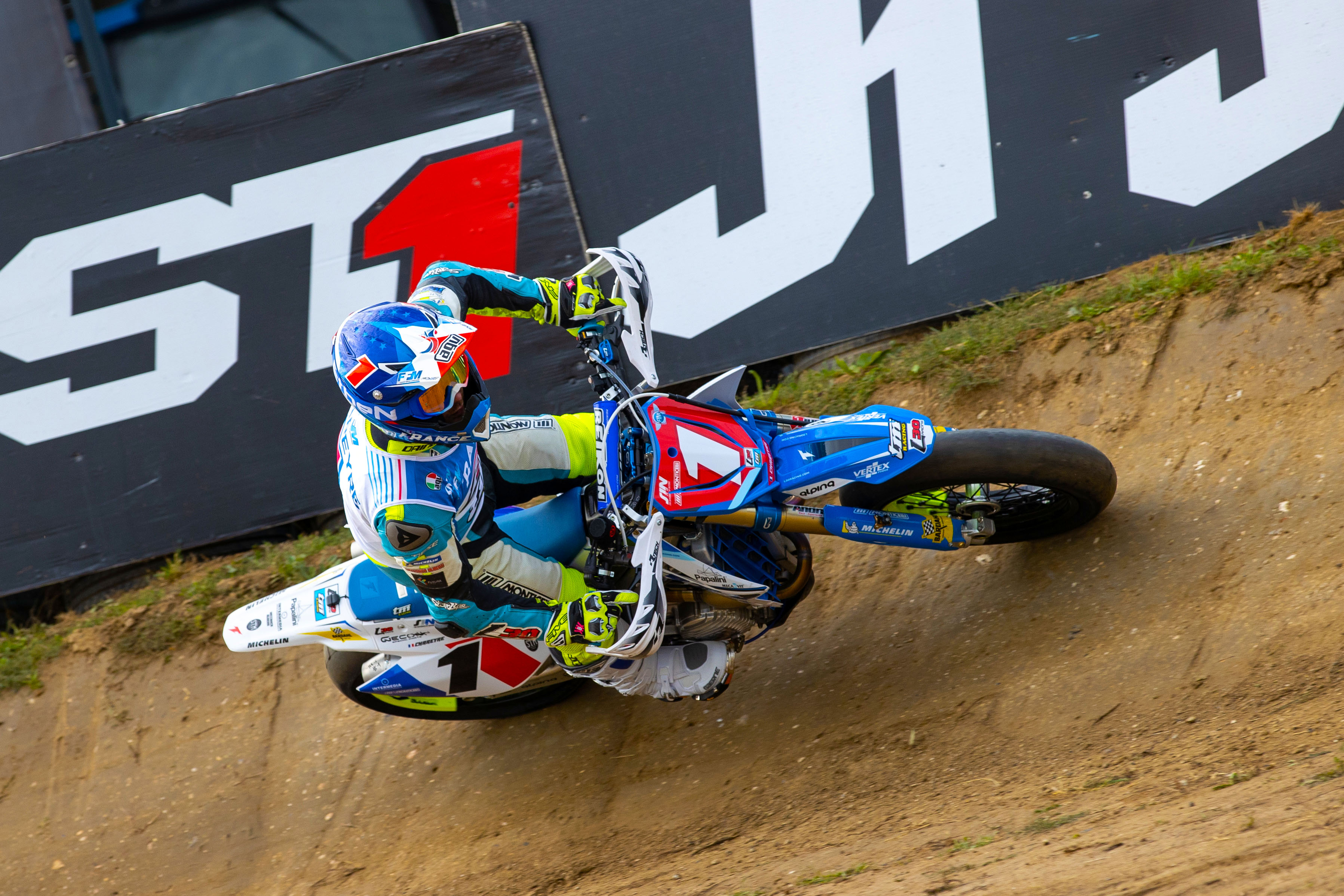 TEAM FRANCE WINS QUALIFYING DAY AT THE FIM SUPERMOTO OF NATIONS
Tremblay-en-France (France) 18 September 2021 – After a year of absence due to the international Covid-19 pandemic, this weekend the FIM Supermoto of Nations is back for the 2021 edition. As in 2019 the event is held on the Circuit of Carole in Tremblay-en-France. The racetrack near France is one of the best equipped venues in Europe and is a combination of fast straights and corners and three off-road sections which will challenge the riders and their bikes to the maximum. Today the free practices and qualifying races were held in good, warm and dry weather conditions. The spectators alongside the track saw Team France with riders Thomas Chareyre, Germain Vincenot-Marchal and Sylvain Bidart win all three races and take the pole positions for tomorrow races in at Circuit Carole.
QUALIFYING RACE GROUP 1
The first qualifying race of the day in France, was the race for the group 1 riders. At start it was Team France rider, and Multiple World Champion Thomas Chareyre who took the hole shot into the first left tight corner of Circuit Carole, but already in the second corner Team Spain rider Ferran Cardus took over the lead from Chareyre. Third position was Tea, Czech Republic rider Petr Vorlicek who was followed on his turn by France junior rider Axel Marie-Luce. Fifth was for Gioele Filippetti from Team Italy right in front of Team Estonia rider Patrick Pals. In the second lap Chareyre took over first place again from Cardus, using all the power of his TM. After Chareyre was in the lead, the Frenchman increased the speed and soon he got away from the rest of the field giving them no chance to even come close. The battle for second was intense with four riders close to each other. Until the sixth lap, Cardus was still in second place but after a mistake from the Spanish rider, he was passed by Vorlicek, Marie-Luce and Filippetti who came better and better into his rhythm. Three laps later Filippetti moved up another place and passed Marie-Luce to take over third place in this race. For Marie-Luce the trouble weren't over because one lap later he also lost this fourth place to Cardus who was on his way back. With two laps to go Filippetti prepared his attack on the second position and in one of the off-road sections the fast Italian managed to complete his attack. In the lead it was still Chareyre and after 12 laps, Chareyre finished in first, taking valuable points for Team France. More than sixteen seconds later Filippetti finished in second, followed by Petr Vorlicek for Team Czech Republic in third place.
QUALIFYING RACE GROUP 1 (TOP TEN):
CHAREYRE Thomas (FRA, TM) 12 laps in 19:37.777; 2. FILIPPETTI Gioele (ITA, Honda) +16.259; 3. VORLICEK Petr (CZE, Honda) +17.832; 4. CARDUS Ferran (SPA, Suzuki) +18.166; 5. MARIE-LUCE Axel (FRA, Kawasaki) +23.742; 6. PALS Patrick (EST, TM) +43.337; 7. CAPONE Loucas (BEL, Honda) +48.290; 8. KRASNIQI Mitja (SUI, TM) +1:31.623; 9. BARTSCHI Yannick (SUI, Yamaha) +1:32.018; 10. ERIKSSON Fredrik (SWE, Honda) +1:48.846
QUALIFYING RACE GROUP 2
At the start of the second qualifying race for the group 2 riders, it was Team France rider Germain Vincenot-Marchal who took the hole-shot followed by Team Czech Republic rider Milan Sitniansky and Team Italy rider Diego Monticelli. In fourth position it was Raoul Tschupp from Switzerland, who was followed by Team France junior rider Youry Catherine and Team Spain rider David Gimenez. Vincenot-Marchel had a fast pace straight from the start and tried to get away from Sitniansky as he good, but the experienced Czech rider managed to stay at the back of the French rider, but the two riders had already a gap to Monticelli who had to fight hard with Tschupp, Catherine and Gimenez and lost some time towards the lead. Spanish rider Gimenez was all over the back of Catherine but the young Frenchman kept his head cool and countered every attack. In the lead Vincenot-Marchal slowly pulled away from Sitniansky who couldn't keep the pace but still the Frenchman in the lead couldn't afford any mistake. Monticelli in his turn was lose from his competitors and gave all he could to get closer to Sitniansky in second place. Tschupp was still in fourth position and the Swiss rider, who suffered with injuries for over two years kept this position until the finish line giving Catherine and Gimenez no chance to get closer. Up front it was still Vincenot-Marchal in the first position, which he held until the finishline, making it the second victory for Team France this Saturday. 4.694 seconds behind Vincenot, Milan Sitniansky finished in second place and the top three was completed by Diego Monticelli for Team Italy.
QUALIFYING RACE GROUP 2 (TOP TEN):
VINCENOT-MARCHAL Germain (FRA, Suzuki) 12 laps in 19:37.155; 2. SITNIANSKY Milan (CZE, Honda) +04.694; 3. MONTICELLI Diego (ITA, TM) +15.767; 4. TSCHUPP Raoul (SUI, TM) +18.514; 5. CATHERINE Youri (FRA, Honda) +19.867; 6. GIMENEZ David (SPA, Husqvarna) +20.094; 7. GILLISSON Thomas (SWE, TM) +1:12.628; 8. CHADRYSIAK Denis (POL, KTM) +1:34.982; 9. PALS Prants (EST, TM) +1:39.506; 10. ROMANENS Mathieu (SUI, KTM) +1 Lap
QUALIFYING RACE GROUP 3                                                                                           
Last qualifying race of the Saturday in Tremblay-en-France was for the riders of group three. With two wins for Team France, all the other countries were eager to stop them from winning this last race on Saturday as well. At the start it was again a French rider who took the hole shot. Sylvain Bidart was the first rider to enter the first tight corner onto the off-road section, directly followed Team Italy rider Elia Sammartin and Team Sweden rider Hampus Gustafson. In fourth position it was Swiss rider Stephan Zuger who was followed by Team Estonia rider Eero Madisson. Team France junior rider Steve Bonnal had a less good start and had to come from position twelve. After his rocket start Bidart tried to get away from his main rival in this race, the winner of the time practice Elia Sammartin but the Italian rider didn't give in and stayed at the back of the Frenchman. The two leaders soon created a gap toward to other riders and also Gustafson in third position had a lead of a few seconds on Zuger and Madisson. Behind Zuger and Madisoon, Team Belgium rider Romeo Fiorentino was closing after his bad start but the Belgium rider had to look back also as Steve Bonnal was closing in fast. In lap six Madisson passed Zuger for fourth position in the race but the number three was out of reach so he had to settle for fourth for now. In the lead Bidart and Sammartin were still close behind and the Italian rider gave all he could but the very experienced Bidart controlled the race until the end and took the third victory for France this Saturday. Second positon was for Elia Sammartin and Team Italy followed by Swedish rider Hampus Gustafson in third. Madisson finished in fourth but became third as Gustafson failed at the noise control test. The Swedish rider got a 5 positions penalty and finished in eight. Fourth place went so Swiss rider Zuger and the top five was completed by France junior rider Steve Bonnal.
With three wins during the qualifying races Team France takes the victory on Saturday and the pole position for tomorrow's races. Second place is for Team Italy followed by Switzerland in third. The front row tomorrow is completed by Team France junior.
QUALIFYING RACE GROUP 3 (TOP TEN):
BIDART Sylvain (FRA, Suzuki) 12 laps in 19:38.854; 2. SAMMARTIN Elia (ITA, TM) +00.622; 3. MADISSON Eero (EST, KTM) +44.889; 4. ZUGER Stephan (SUI, Yamaha) +47.349; 5. BONNAL Steve (FRA, TM) +50.027; 6. FIORENTINO Romeo (BEL, Yamaha) +50.176; 7. PROVAZNIK Erik (CZE, Yamaha) +59.302; 8. GUSTAFSON Hampus (SWE, Gasgas) +59.303; 9. CHADRYSIAK Kevin (POL, KTM) +1:41.453; 10. GELADA Genis (SPA, Husqvarna) +2:05.615
TEAMS QUALIFYING (TOP TEN): 1. France  Pts. 2,000; 2. Italy  Pts. 4,000; 3. Switzerland  Pts. 7,000; 4. France Jr  Pts. 9,000; 5. Estonia  Pts. 9,000; 6. Spain  Pts. 9,000; 7. Czech Republic  Pts. 10,000; 8. Belgium  Pts. 13,000; 9. Sweden  Pts. 14,000; 10. Poland  Pts. 17,000
Timetable Sunday: Official opening: 12:00 hours; Race 1: 13:30 hours; Race 2: 15:10 hours; Race 3: 16:50 hours, priving ceremony.
Complete results available HERE.
SUPERMOTO OF NATIONS  -QUICK FACTS
Circuit length: 2.085 mt
Temperature: 24 degrees Celsius
Weather conditions: Sunny
The FIM Supermoto of Nations will be broadcasted delayed, by clicking HERE you will obtain the full tv list
In the photo: Team France rider Thomas Chareyre
LINKS