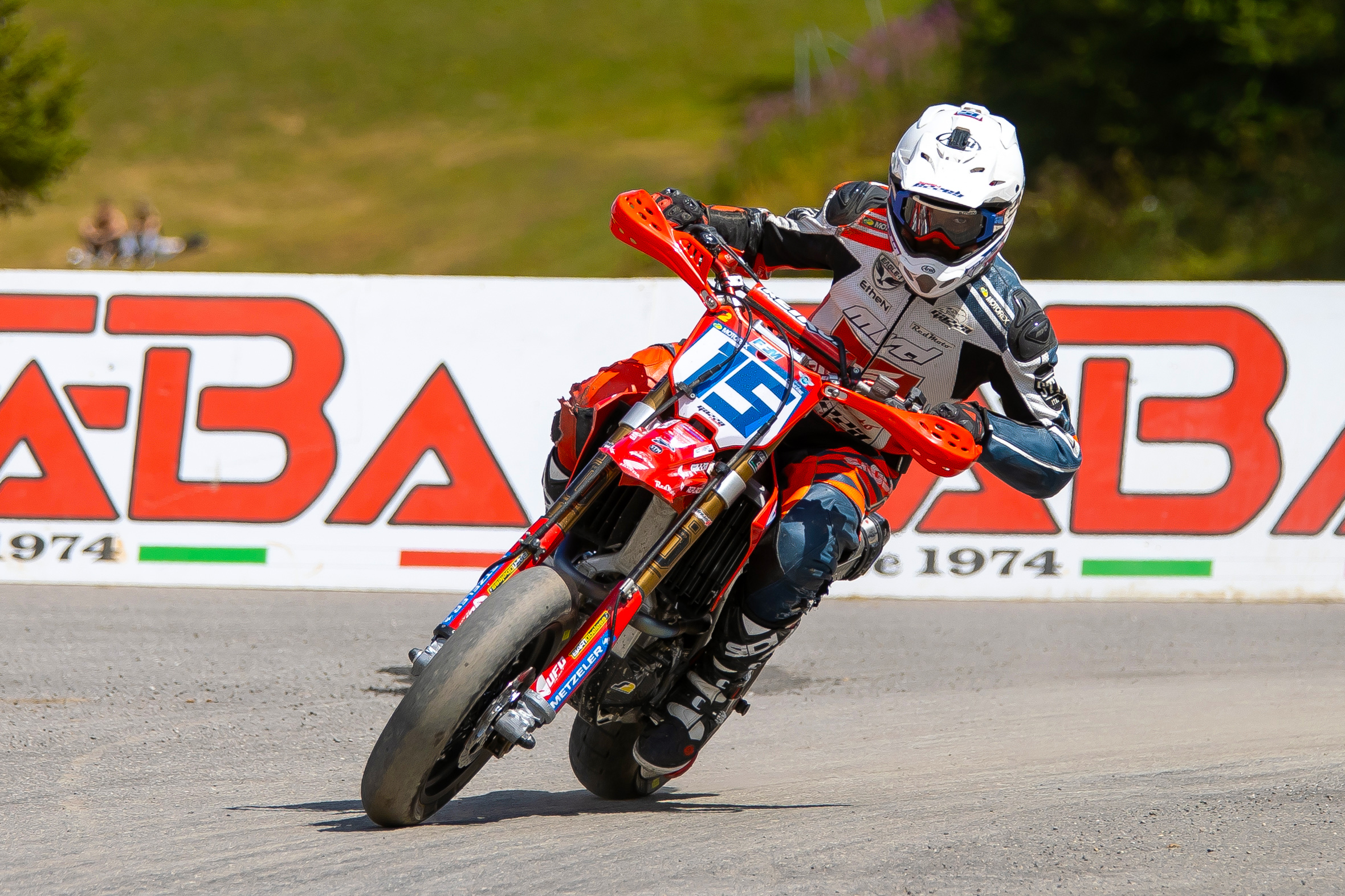 YOURY CATHERINE TAKES THE S2 POLE POSITION IN SESTRIERE
Sestriere (Italy) 4 September 2021 – Today the Supermoto European Championship is continuing in Sestriere, Italy. Sestriere is located in the mountains of the region of Piemonte and is a very popular ski resort during the winter. The former Olympic village hosted Supermoto rounds before and for this weekend the organisation prepared an exiting street circuit for the riders. It was Gazza Racing rider Youry Catherine who took the pole position in the S2 class in the street of Sestriere.
Time practice S2
In the two free practices today at the street track of Sestriere it was Gazza Racing rider Youry Catherine who was the fastest of the field, but slowly the competition was getting stronger and confident on the fast circuit high in the mountains. Catherine off-course was also the favourite for the pole position, but the young Frenchman knew he wasn't going to be easy. At the start of the time practice all riders went on the track immediately to have as much time as possible. Straight from the start it was clear that the gaps would be small. SMX Racing rider Romeo Fiorentino was first to set a time but soon KTM MTR rider Romain Kaivers and the current championship leader Husqvarna rider Andy Buschberger were faster with some very fast laptimes. For Youry Catherine this was the sign to open the throttle even wider and in his last lap he managed to set a time of 53.572 seconds which turned out to be the fastest time of all. Romain Kaivers was 00.445 seconds behind the Gazza Racing rider and third rider was Andy Buscherberger. Tomorrow the fight for the Supermoto European Championship will continue.
S2 Time Practice
CATHERINE Youry (FRA, Honda) 53.572; 2. KAIVERS Romain (BEL, KTM) 54.017; 3. BUSCHBERGER Andreas (AUT, Husqvarna) 54.386; 4. BOZZA Luca (ITA, TM) 54.576; 5. BONNAL Steve (FRA, TM) 54.697; 6. FIORENTINO Romeo (BEL, Yamaha) 55.070; 7. STUCCHI Andrea (ITA, Honda) 56.865
Time Table:
Sunday: S2 Race 1 12:00, S2 Race 2 14.00 , S2 Price giving ceremony
Complete results available HERE.
S2  EUROPEAN CHAMPIONSHIP of SESTRIERE  – QUICK FACTS
Circuit length: 1.005 mt (777 mt + 228 mt off-road)
Temperature: 14 degrees Celsius
Weather conditions: Sunny with some clouds
In the photo: #15 Youry Catherine
LINKS