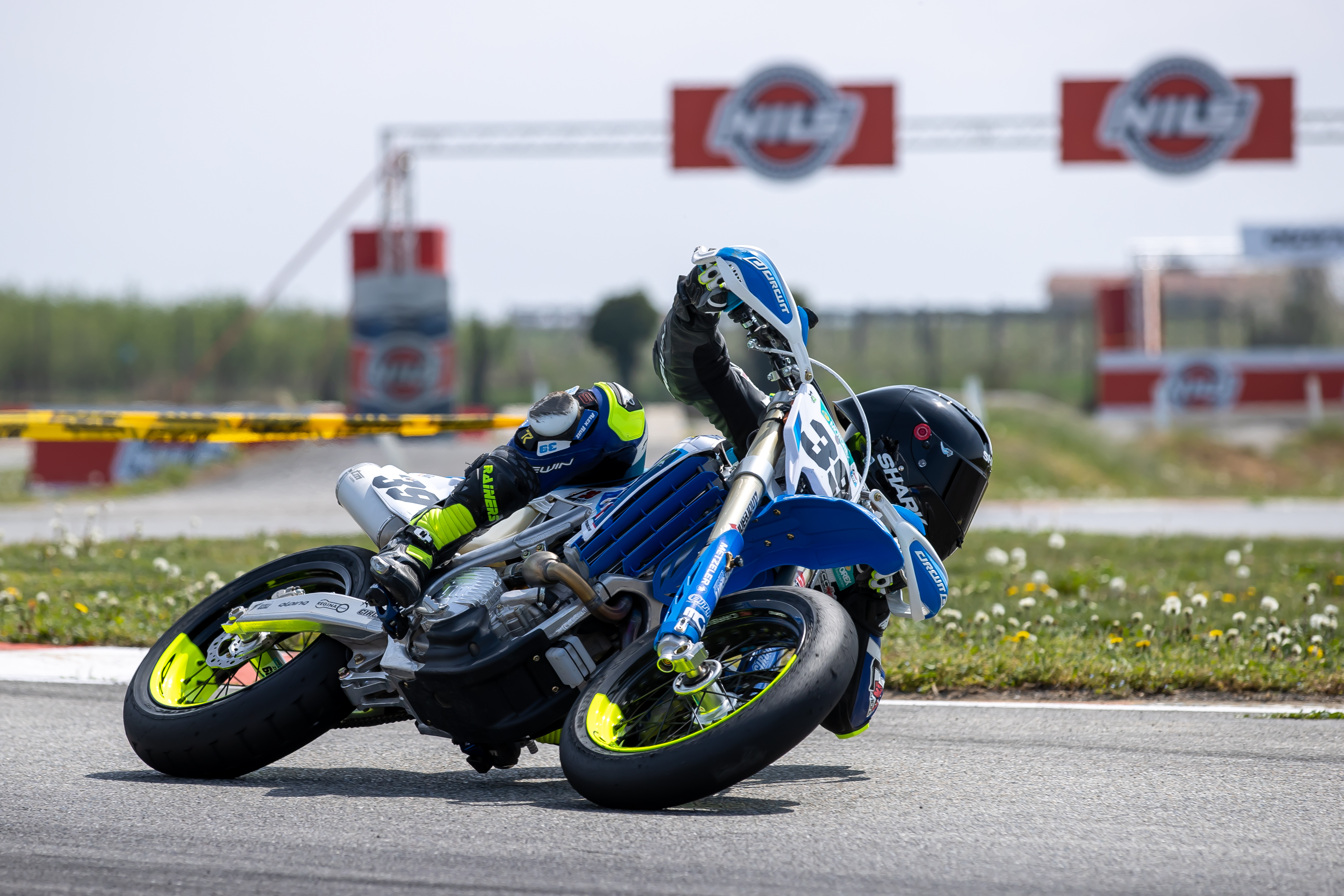 ALEX RUIZ-GIMENEZ TAKES THE POLE POSITION IN BUSCA IN THE S4 CLASS
Busca (Italy), 16 April 2022 – For the S4 Supermoto European Championship, it was also the first race of the 2022 season. The Circuito internazionale di Busca in the region of Piemonte is het perfect track for the asphalt only S4 riders. With fast straights and flowing corners the riders can take the maximum out of the their bikes. The weather conditions were warm but perfect and the S4 riders gave everything they got in the time practice today. With an time of 1:08.628, it was L30 Racing Tm Factory rider Alex Ruiz-Gimenez who took the pole position for the race tomorrow in Italy.
Free practices S4
In the free practice in Busca it was Spanish L30 Racing TM Factory rider Alex Ruiz-Gimenez who was fastest in front of Italian Gazza Honda rider Giorgio Cravotto and German Husqvarna rider Kevin Zahorak. The second free practice was also held in perfect weather conditions and  again Ruiz-Gimenez was the fastest rider, showing he felt at home on the Italian racetrack. Second time was for his teammate at L30 Factory TM Racing Kevin Vandi and third time was FRT2 Racing rider Marco Malone.
Time practice S4
The time practice of the S4 class started at 13:20 hours in the afternoon. With the sun and the light green, the seven riders went on the track and immediately the lap times got faster with each lap. In lap number seven FRT2 Racing rider Marco Malone set the fastest time in this practice the Italian S4 champion from last year knew it was going to be a hard battle to stay in front. L30 Racing TM Factory riders Kevin Vandi and Alex Ruiz-Gimenez were not far behind and a few laps later Ruiz-Gimenez had an almost perfect lap on the track of Busca and set the fastest time to 1:08.628, a time that wasn't going to be beaten by any of the riders. Vandi, Malone and also Gazza Racing rider Giorgio Cravotto gave all they had but it wasn't enough to beat Alex Ruiz-Gimenez.
S4 Time Practice Top Ten:
RUIZ JIMENEZ Alex (ESP, TM) 1:08.628; 2. VANDI Kevin (ITA, TM) 1:09.137; 3. MALONE Marco (ITA, Honda) 1:09.243; 4. CRAVOTTO Giorgio (ITA, Honda) 1:11.553; 5. DELONG Alexis (FRA, TM) 1:12.259; 6. ZAHORAK Kevin (GER, Husqvarna) 1:12.598; 7. MARX Mauritius (GER, Honda) 1:15.009
Time Table:
Sunday: S4 Race 1 11.50; S4 Race 2 14.40;  S4 Price giving ceremony
Complete results available HERE.
S4 EUROPEAN CHAMPIONSHIP of PIEMONTE – QUICK FACTS
Circuit length: 1.645 mt
Temperature: 26 degrees Celsius
Weather conditions: Sunny
In the photo: S4 Alex Ruiz-Gimenez
LINKS