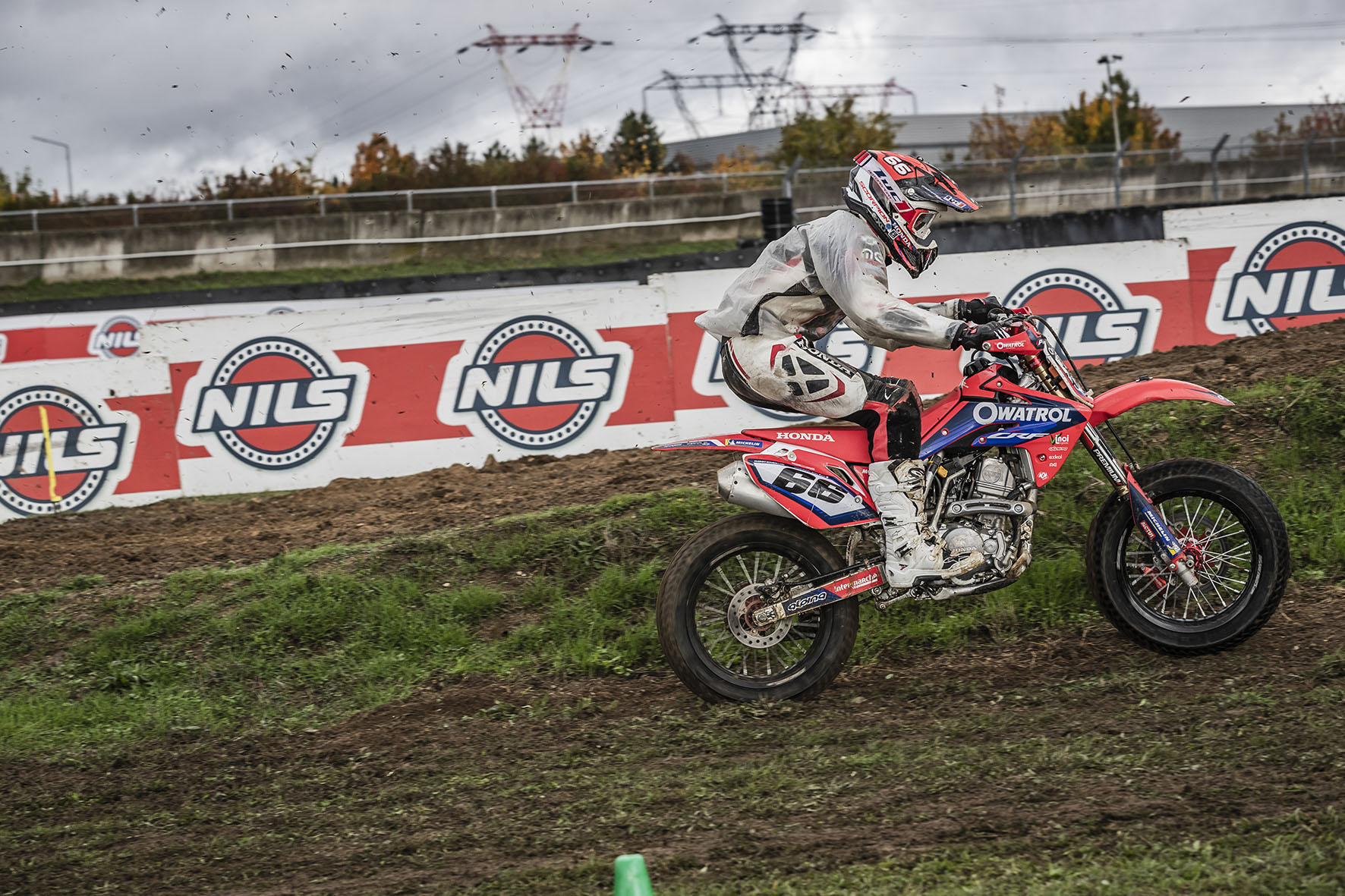 MATHEO BOURSILLON CONQUERS THE POLE POSITION
Carole (France), 16 October 2022 – The final race of the SM Junior season took place at the French circuit of Carole, where adverse weather conditions forced the organization to close two off-road sections. Matheo Boursillon (Honda) was a wonder and conquered the pole position.
Free practices
Matej Kokes (Husqvarna) was the star of the free practices as he was the fastest to ride with wet track conditions. Series leader Ramon Godino (Yamaha) did not overdo it and finished in fourth position.
Time practice
Wild card Matheo Boursillon offered a great performance. The rider adjusted to the track during the time practice and was the protagonist of an extraordinary qualifying, where he reached the pole position on his Honda CRF 150. Matej Kokes (Husqvarna) had to feel happy with the second position and Valentin Durand (GasGas) was third. Championship leader Ramon Godin struggled a bit and could not find the right feeling with the French track, so he could only reach the eighth position.
Time Practice Top Ten:
BOURSILLON Matheo (REU, Honda) 1:24.612; 2. KOKES Matej (CZE, Husqvarna) 1:25.834; 3. DURAND Valentin (BEL, GasGas) 1:25.917; 4. VETKIN Mathias (EST, TM) 1:26.184; 5. ROLIN Tom (BEL, KTM) 1:26.438; 6. VAN DRUNEN Jayson (NED, Yamaha) 1:28.059; 7. EBELMANN Rasmus (EST, Husqvarna) 1:28.401; 8. GODINO Ramon (ESP, Yamaha) 1:28.579; 9. BENVENUTI Andrea (ITA, KTM) 1:28.646; 10. BERECZKI David Zsolt (HUN, Husqvarna) 1:30.429
Time Table:
SUNDAY: 11.30 SM Junior Race1; 15.00 SM Junior Race2; SM Junior Prize Giving Ceremony
Complete results available HERE.
In the photo: Matheo Boursillon
LINKS