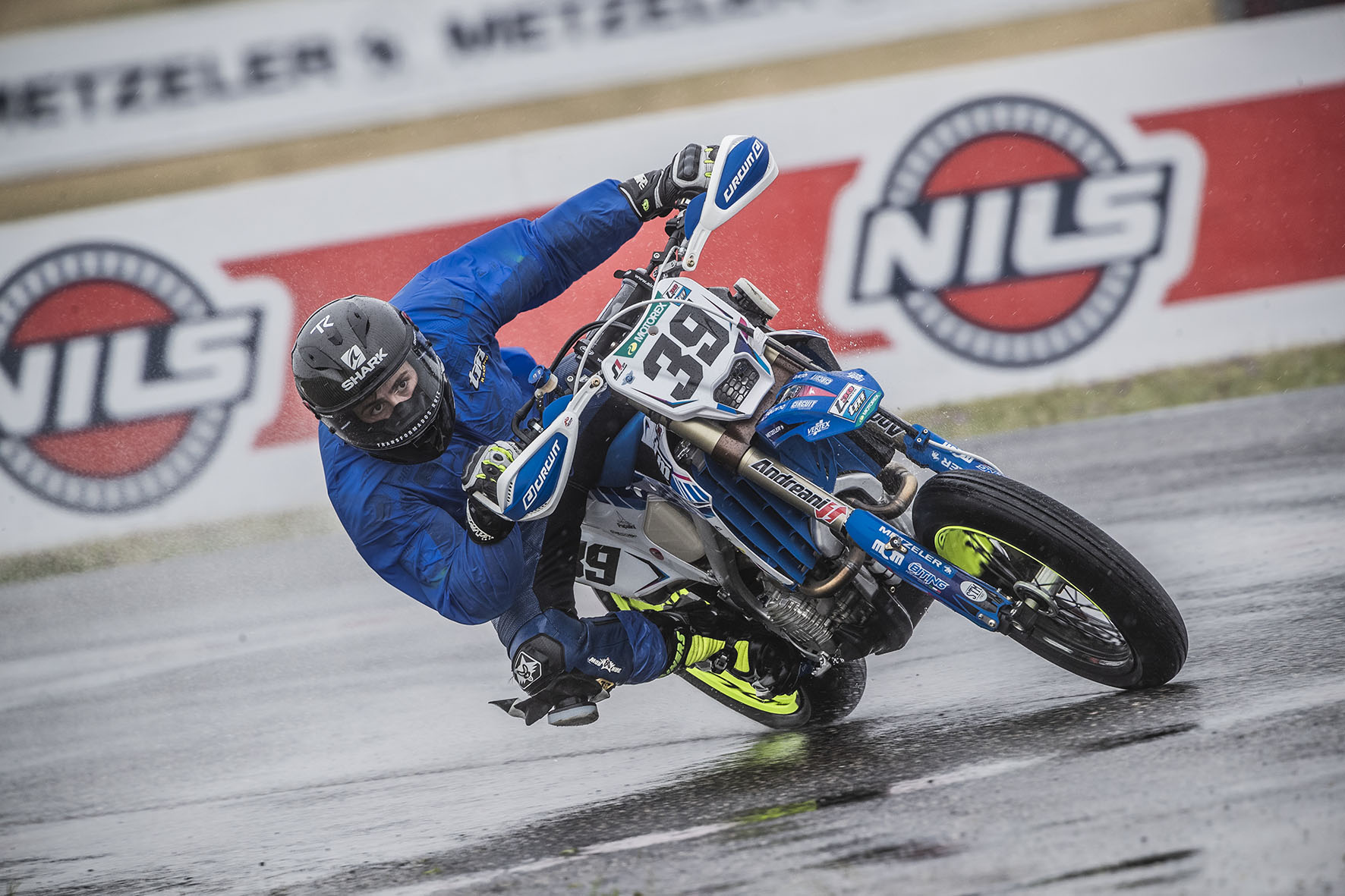 ALEX RUIZ JIMENEZ AND KEVIN VANDI ACHIVE A DOUBLE ASUCCESS FOR THE L30 RACING TM FACTORY TEAM IN THE TIME PRACTICE OF THE S4 EUROPEAN CHAMPIONSHIP
Tramatza  (Italy), 20th May 2023 – Rain did not stop the riders of the S4 European Championship, who put on a great show at the Sardinia Circuit. The race was featured by rain, as the first GP of the season. Kevin Vandi (L30 Racing TM Factory) proved once again he is unbeatable despite the wet conditions of the track.
Free practices S4
Spanish rider Alex Ruiz Jimenez (L30 Racing TM Factory) was the start of the first free practice session of the day. The rider set the best time and qualified in front of home rider Michele Cuccu (TM), who took part in his very first race of the European Championship, and Kevin Vandi.
Time practice S4
The three TM riders swapped the top places throughout the whole session. It seemed like the pole position went to Kevin Vandi (L30 Racing TM Factory), when in the last lap right before the checkered flag Alex Ruiz Jimenez (L30 Racing TM Factory) improved his pace of 168 tenths of a second and conquered the first place. The front row was completed by another TM rider Michele Cuccu (TM). An excellent result went to home rider Manuel Pirina (KTM), who finished in fourth place.
S4 Time Practice Top Ten:
RUIZ JIMENEZ Alex (ESP, TM) 54.225; 2. VANDI Kevin (ITA, TM) 54.461; 3. CUCCU Michele (ITA, TM) 54.550; 4. PIRINA Manuel (ITA, KTM) 54.769; 5. GOMEZ REQUENA Francisco (ESP, husqvarna) 54.870; 6. NAVARRIA Antonino Achille (ITA, Honda) 55.145; 7. DELONG Alexis (FRA, TM) 56.336; 8. PAPALINI Lorenzo (ITA, TM) 56.403; 9. STAAB Marie-Louise (GER, TM) 1:00.767;
Time Table:
S4 Warm up 09:15; S4 Race-1 (20') 10:45;; S4 Race-2 (20') 14:00
Complete results available HERE.
In the photo: Kevin Vandi (L30 Racing TM Factory)
LINKS
SARDINIA INTERNATIONAL CIRCUIT