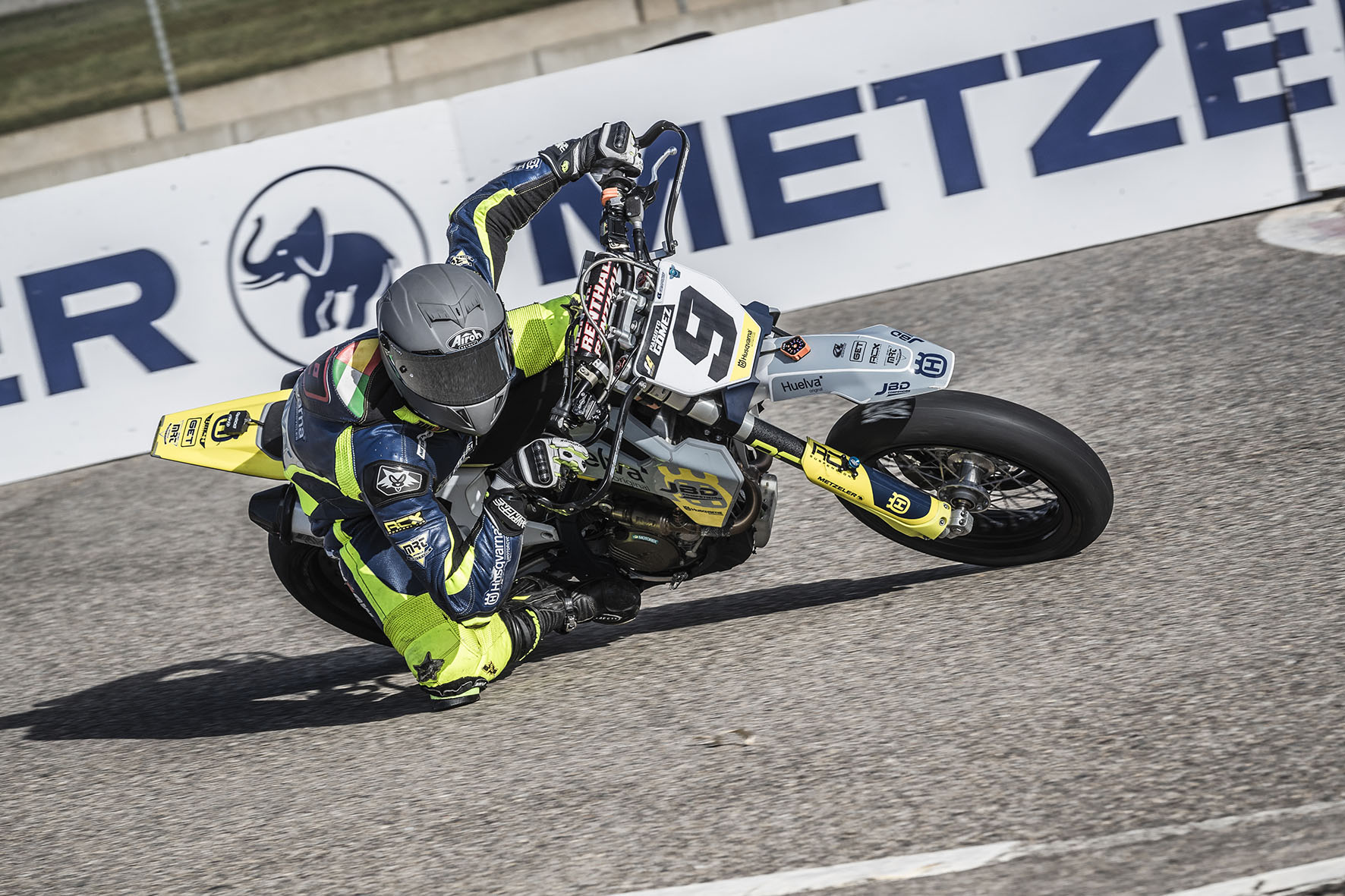 SPANISH RIDERS RULE THE S4 AND SM JUNIOR
Alcarras (Spain) – 16 September 2023 – The beautiful track of Alcarras, in the outskirts of Lleida, welcomed Spanish riders Francisco Gomez Requena (Husqvarna) in the S4 and Max Serra Ginesta (GasGas) who ruled respectively in their categories and came home with the pole position.
Free practices S4
Spanish Francisco Gomez Requena enjoyed the circuit and set the best time, while second place went to Marcos Ramirez (Husqvarna) and Kevin Vandi (L30 Racing Tm Factory) was third.
Time practice S4
The qualifying session featured a tough battle among three riders. Francisco Gomez Requena took the pole position just at the end of the session and Kevi Vandi spent most of the time in second place; current red plate holder had to feel happy with the third place after another Spanish rider, Alex Gourdon Rafael, took the second position.
S4 Time Practice Top Ten:
GOMEZ REQUENA Francisco (ESP, Husqvarna) 52.229; 2. GOURDON RAFAEL Alex (FRA, Husqvarna) 52.695; 3. VANDI Kevin (ITA, TM) 52.891; 4. FORD DUNN Loris (GBR, Husqvarna) 52.906; 5. GOURDON RAFAEL Theo (FRA, Husqvarna) 53.299; 6. RAMIREZ Marcos (ESP, Husqvarna) 53.331; 7. TSCHOPP Janik (SUI, TM) 55.221; 8. PAPALINI Lorenzo (ITA, TM) 55.358; 9. STAAB Marie Louise (GER, Husqvarna) 57.316
Free practices SM Junior
Young Spanish rider Max Serra Ginestra, who feels at home at the track of Alcarras, immediately set the best time thanks to a race pace which was very solid compared to rivals. Matej Kokes was second and Championship leader Andrea Benvenuti third.
Time practice SM Junior
The main protagonist of the qualifying was Max Serra Ginestra who immediately took first place and no other rival could take it away from him. Matej Kokes, current defending champion, tried throughout the whole session to prevail over his rival but it was not enough for him to take the pole position. Riccardo Andreotti rounded off the front row. Benvenuti had to feel happy with the fourth spot in the starting grid.
SM Junior Time Practice Top Ten:
SERRA GINESTA Max (ESP, GasGas) 1:41.525; 2. KOKES Matej (CZE, Husqvarna) 1:41.935; 3. ANDREOTTI Riccardo (ITA, KTM) 1:43.457; 4. BENVENUTI Andrea (ITA, KTM) 1:43.935; 5. TERRANEO Nathan (SUI, KTM) 1:44.801; 6. BERECZKI David Zsolt (HUN, Husqvarna) 1:44.987; 7. CORNOLTI Daniele (ITA, GasGas) 1:45.333; 8. EBELMANN Rasmus (EST, Husqvarna) 1:46.124; 9. MOOSES Robin Robert (EST, Husqvarna) 1:48.362; 10. STEINER Christoph (AUT, KTM) 1:48.732
Time Table:
09.00 Warm Up S4 – 09.25 Warm Up SM Junior –  10.45 Race 1 S4 – 11.55 Race 1 SM Junior – 14.05 Race 2 S4 – 15.10 Race 2 SM Junior.
Complete results available HERE.
In the photo: 9 Francisco Gomez Requena S4
LINKS