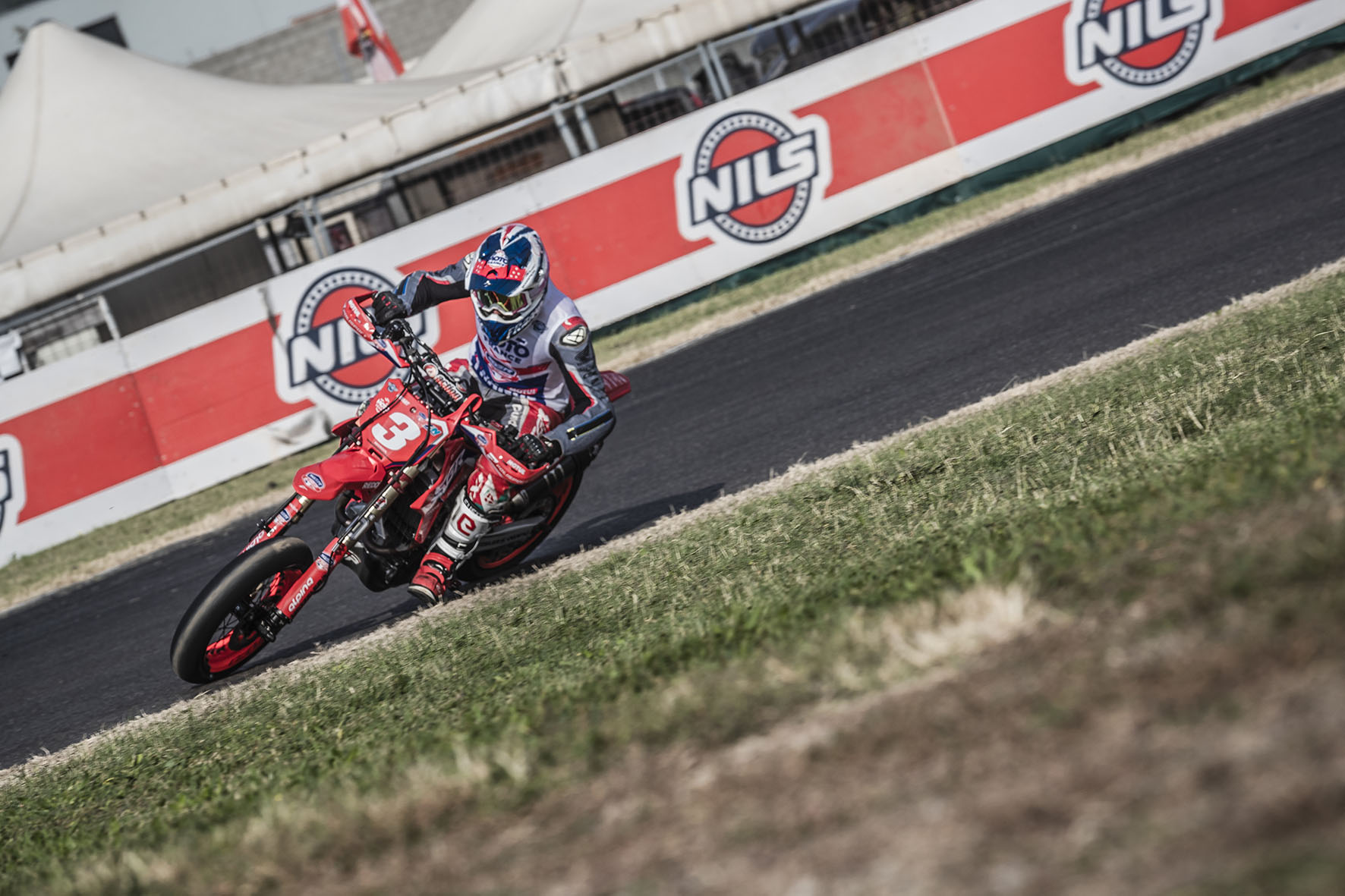 FRANCE RULES THE FIRST DAY OF THE SUPERMOTO OF NATIONS
France, without captain Thomas Chareyre, did not miss the expectations thanks to an excellent performance offered by its riders and came home with the first place of the standings at the end of the first racing day, finishing in front of Austria and Italy.
Qualifying race – Group Rider 1
Steve Bonnal (TC4R1 Racing Team) set the best time in the qualifying. After pulling away from first place he set a solid race pace and opened a gap over rivals being the protagonist of a solid race. Bonnal was chased by Milian Sitniansky (Honda) who tried to keep the rhythm of the French rider but did not make it and qualified second. Spanish Jaume Gaya (Honda), Belgian Roman Kaivers (TC4R1 Racing Team) and Luca D'Addato (Tm) battled it out for third place. At first the Italian rider prevailed on Gaya and moved to third place, not giving it up till the finish line. At the end of the race D'Addato was penalized and lost five positions for not passing the phonometric testing.
Qualifying race – Group Rider 1
Top Ten:
BONNAL Steve (FRA, TM) 10 laps in 20:08.478; 2. SITNIANSKY Milan (CZE, Honda) +07.794; 3. KAIVERS Romain (BEL, TM) +09.307; 4. BAUER Rudolf (AUT, GasGas) +19.910; 5. GAYA Jaume (ESP, KTM) +31.309; 6. TSCHUPP Raoul (SUI, KTM) +32.969; 7. FRECH Eddy (GER, KTM) +33.507; 8. D'ADDATO Luca (ITA, TM) +33.508; 9. PALS Patrick (EST, TM) +44.418; 10. GILLISSON Thomas (SWE, TM) +49.429
Qualifying race – Group Rider 2
The second race was thrilling with Andreas Bushberger (Husqvarna) who took the lead at the start in front of Nicolas Cousin (Honda) and Fabrizio Bartolini (Honda). Cousin started from second place but faced a tough start and was fourth after the first corner. Halfway through the race Nicolas Cousin was phenomenal and overtook rivals taking the lead. The French rider did not give up and did not allow Bushberger to move at the front, eventually winning the race with an advantage of just a few tenths of a second. Thanks to a solid race pace Fabrizio Bartolini reached third place and tried to make up ground to move closer to the front riders but they were too far so he felt happy with the third spot.
Qualifying race – Group Rider 2
Top Ten:
COUSIN Nicolas (FRA, Honda) 7 laps in 14:21.909; 2. BUSCHBERGER Andreas (AUT, Husqvarna) +01.019; 3. BARTOLINI Fabrizio (ITA, Honda) +11.558; 4. JOANNIDIS Nico (GER, Husqvarna) +15.017; 5. FIORENTINO Romeo (BEL, Honda) +17.472; 6. PROVAZNIK Erik (CZE, TM) +22.951; 7. GOTZL Randy (SUI, Yamaha) +28.455; 8. AVILA Julen (ESP, Honda) +29.243; 9. REIMER Nicholas (USA, TM) +29.478; 10. MADISSON Eero (EST, KTM) +35.901
Qualifying race – Group Rider 3
Lukas Hollbacher (MTR Ktm Racing) made no mistakes as the red lights blinked off and moved at the front chased by Sylvain Bidart (Honda) who prevailed over Elia Sammartin (L30 Racing Tm Factory). After a couple of laps Sammartin overtook Bidart and chased Hollbacher who slipped and gave the green light to Sammartin. The Austrian rider was the author of a phenomenal recovery and lap after lap he reached the Italian rival. With three laps to go Hollbacher overtook Sammartin in the off-road but the Austrian made a big mistake by crossing the finish line with one lap to go thinking that was the end. While his rival was celebrating, Sammartin took the lead and the victory as well.
Qualifying race – Group Rider 3
Top Ten:
SAMMARTIN Elia (ITA, TM) 10 laps in 20:05.063; 2. HOLLBACHER Lukas (AUT, KTM) +00.035; 3. BIDART Sylvain (FRA, Honda) +16.925; 4. CARDUS Ferran (ESP, Honda) +20.107; 5. DEITENBACH Jan (GER, Husqvarna) +21.015; 6. KRASNIQI Mitja (SUI, TM) +29.745; 7. ULMAN Jan (CZE, TM) +34.414; 8. BOUILLON Sebastien (BEL, Honda) +40.988; 9. PEARCE Bronson (USA, TM) +1:05.311; 10. PARTELPOEG Aksel (EST, Husqvarna) +1:12.153
Qualifying race – SM Junior
The French Junior Team prevailed since the free practices demonstrating they are the strongest national team. The three riders Youry Catherine (TC4R1 Racing Team), Alex Horeau (TC4R1 Racing Team) and Tim Slazai (Husqvarna) were the fastest in the qualifying. At the start of the race the three French riders took the lead and after a few laps opened a gap over rivals taking the checkered flag alone. Second place went to Germany Junior team thanks to the fourth spot taken by Colin Beischroth (TM) and the fifth reached by Nick Haufe (Husqvarna). Third place went to Team Italy Junior.
Qualifying race –SM Junior
Top Ten:
France Junior Pts. 3,000; 2. Germany Junior Pts. 10,000; 3. Italy Junior  Pts. 15,000; 4. Switzerland Junior  Pts. 15,000; 5. Portugal Junior  Pts. 23,000;
Time Table:
08.40 S1oN Junior Warm up – 9.05 Supermoto of Nation Group 1 Warm Up – 9.30 Supermoto of Nation Group 2 Warm up – 10.45 S1oN Junior Race 1 –  13.05 Supermoto of Nation Rider 1 + Rider 2 Race – 15.05 Supermoto of Nation Rider 2 + Rider 3 Race – 16.35 Supermoto of Nation Rider 2 + Rider 3 Race
Complete results available HERE.
SUPERMOTO OF NATIONS – ITALY – QUICK FACTS
Circuit length: 2.544 mt (1.543 mt asphalt, 616 mt off-raod, 385 mt Sky-section)
Temperature:Sun
Weather conditions:25°
The FIM Supermoto of Nations will be broadcasted delayed, by clicking HERE  you will obtain the full tv list.
In the photo: Team France
LINKS